Pam Anderson Defends Former Friendliness With Trump: 'I Just Popped Out of the Cake!'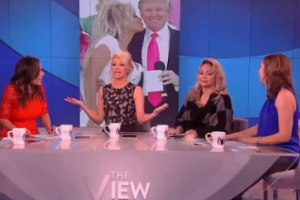 Today, model and activist Pamela Anderson was a co-host on the View. She was there to promote her new makeup line, tell some stories about her sons, and participate in the show's "hot topics" segment. Of course, today's hot topic was Donald Trump's taco bowl.
Anderson has made a number of influential (if unexpected) friends over the years. For instance, she had a meeting with Sheriff Joe Arpaio to personally laud him for instituting a meat-free policy at the Maricopa County Jail. She was also linked to Vladimir Putin by the press once. Naturally, as a sensation of the 1990s, she also knew Trump back in the day, so while everyone was chatting about the GOP frontrunner's pandering, she took the opportunity to disavow her former friendliness with him altogether.
"Pamela, you have a close relationship with him in some senses…" said Paula Faris.
"I just popped out of the cake!" she said defensively. "You never know who's on the receiving end! It was a birthday. I was there. I got paid."
Joy Behar pointed out that in the photo on the screen behind them, Anderson was kissing Trump's cheek.
"I know," she sighed. "I take it back."
As the women pressed on, discussing Trump's taco bowl, Anderson suggested, "The best thing we can do for the world is stop talking about Donald Trump."
For the record, he isn't a big fan of hers anymore, either.
[image via screengrab]
For more from Lindsey, follow her on Twitter or Facebook!
Have a tip we should know? tips@mediaite.com