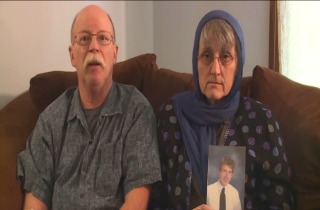 In a new video released today, the parents of former Army Ranger Peter Kassig pled for ISIS militants to release their son, who appeared in an ISIS video released yesterday showing the beheading of British air worker Alan Henning.
Kassig disappeared in October of last year while working as an aid worker in Syria, where he founded an organization dedicated to providing Syrians with medical and other skills.
"Our son's journey culminated in him embracing Islam," Peter's father Ed Kassig said. "Sadly, he was taken captive and is not free to continue his life's work serving the people of the region."
Kassig said his son answered the "humanitarian call" that has existed in their family for generations. He also said the policies of the U.S. government are beyond his control, and acknowledged he has asked the government to "change its actions" in the region.
"But like our son, we have no more control over the U.S. government than you have over the breaking of dawn," he said.
Kassig's mother, Paula, said she and her husband are proud of their son, and implored Peter's captors to "show mercy" so that Peter can continue his life's work of service to others.
Alan Henning's wife, Barbara, made a similar appeal to ISIS in which she also called for the safe release of her husband.
Watch the video below, via YouTube:
[Image via screengrab]
— —
>>Follow Andrew Desiderio (@forza_desiderio) on Twitter
[Note: Mediaite intern Andrew Desiderio is a student at The George Washington University.]
Have a tip we should know? tips@mediaite.com