Yes, war memorial barricades. Aside from that, though, how is the shutdown going to affect you? Here's a very partial rundown, from state parks to flu vaccines to booze permits to unemployment numbers.
WIC Program Will Run Out of Funding In One Week
The Special Supplemental Nutrition Program for Women, Infants and Children (WIC), which provides nutritional services—including food and infant formula—for 9 million people at or near the poverty line, will run out of funding after about one week, running through its reserve of $125 million.
"America is not realizing how many low-income pregnant women and children we have in this country," said Margaret Saunders, who runs the WIC program in Chicago. "They have no safety net. These women are trying to have a healthy pregnancy, and they're asking, 'how am I going to feed my family?' It's a terrifying moment, and it's beyond my control. At our agency, we have no cushion. If our funding stream stops we will temporarily suspend service."
This, by the by, is what Bill Kristol called "not the end of the world" this morning.
NIH Suspends Clinical Trials
75% of the National Institute of Health's Clinical Center is furloughed, and here's what their website looks like: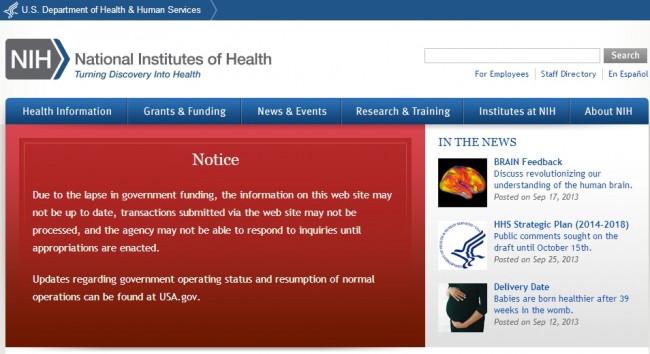 While much of the NIH will remain open for business, it won't be accepting any new clinicial patients, who usually turn to the institute only when all other options have been exhausted.
"As a result of the budget impasse," Brad Plumer wrote in the Washington Post, "there will be a certain number of patients who have exhausted all their options, were hoping to undergo treatment at the NIH Clinical Center, and won't get admitted."
That includes, according to the Wall Street Journal, children with cancer:
At the National Institutes of Health, nearly three-quarters of the staff was furloughed. One result: director Francis Collins said about 200 patients who otherwise would be admitted to the NIH Clinical Center into clinical trials each week will be turned away. This includes about 30 children, most of them cancer patients, he said.
RELATED: 7 'Essential' Things You Should Know About a Government Shutdown
CDC Flu Prevention Program in Jeopardy
Speaking of health, the Center for Disease Control's flu prevention program would be jeopardized by any lengthy government shutdown, HuffPo's Sam Stein reported. Each fall, vaccine producers prepare millions of vaccines to help combat the spread of the flu virus, but the CDC would be unable to administer the program unless the shutdown is ended. The CDC will also stop local disease surveillance. A combo of no vaccines and no monitoring of flu outbreaks during flu season should be super.
E-Verify is Down, But It's Cool Cuz It's Not Like There's Unemployment Or Anything
WaPo's Jonathan Capehart notes that E-Verify website is down: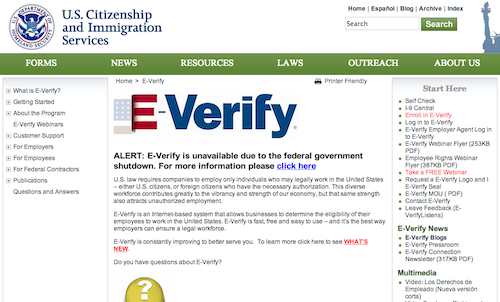 Thus, employers cannot check a new ire's naturalization status, potentially putting them in violation of the agency's rules. That's a risk many employers, particularly temporary staffing agencies, will not be willing to take.
"If you think the travesty of governance on Capitol Hill only body slams more than 800,000 federal workers, think again," Capehart wrote. "With 7.3 percent unemployment in August, this isn't what the economy or folks looking for work needs right now. On Friday, we're supposed to get the jobs numbers for September, but thanks to the shutdown…"
Yes, thanks to the shutdown, the Bureau of Labor Statistics will significantly reduce its data collection. The bureau will continue to release "initial" unemployment numbers, as some of the data is collected at the state level, but none of the more sophisticated number-crunching the agency normally provides.
By the by, if the shutdown lasts, it could affect unemployment payments themselves.
Head Starts Programs Affected
At least twenty Head Start programs would be hit immediately, with more to fall if the shutdown continues.
No Panda Cam For You!
The National Zoo's Panda Cam has been deemed non-essential. Rumors that YouTube has a wide variety of panda vids to tide you over went unconfirmed at press time.
No New Booze For You!
The Alcohol and Tobacco Tax and Trade Bureau stopped accepting new applications Tuesday. Your dream of being the next Tito's will have to wait until Congress reopens the government.
No New Homes For You!
Applications for federal loans for houses or small businesses will not be processed during the shutdown, with a potential economic risk if the impasse last for more than a few days.
NASA Mission, Twitter Feeds Imperiled
Launch preparations for a November 18 mission to Mars have already been put on hold, the New York Times reports, and NASA officials warn that if the shutdown lasts too long, it could imperil the mission entirely. That would delay the Mars mission until 2016, "when Mars and Earth next come back into a favorable alignment. The science would also be diminished, because the scientists wanted to observe the Martian atmosphere during the height of the Sun's active period, which is approximately now."
Mission control workers were deemed essential, but most NASA employees cannot go to work. This means, among other things, that Voyager 2's twitter account is no longer tweeting, signing off with "Farewell, humans. Sort is out yourselves."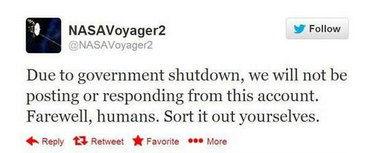 (NB: The account has since been suspended, and might have been a fake, as it lacked that reassuring blue checkmark.)
Here's Voyager 1's message to earthlings: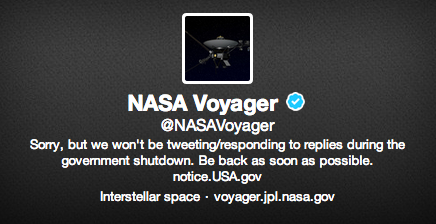 Open Season for Wall Street Crooks
Despite efforts by its commissioner to secure funding prior to a shutdown, the Commodity Futures Trading Commission will furlough more than 90% of its staff, leaving regulators "handcuffed in our ability to go after crooks." The CFTC also will be unable to work on the implementation of Dodd-Frank during the shutdown. Door's open, boys!
Tourist Destinations Closed—With Economic Effects on Surrounding Business
The New York Times also reported on a spectrum of tourist closures around the country, from the Grand Canyon to Alcatraz to Faneuil Hall. The paper talked to tourists who had, in some cases, traveled thousands of miles to visit the attractions— "This makes me feel like all those things I taught for 35 years were lies," said a former government teacher from Idaho who'd been denied entry to Faneuil Hall—but also noted the adverse economic impact of closing such destination spots:
Tourists spend on average $2.7 million a day at the national parks in Arizona each October, almost half of it at the Grand Canyon, according to an analysis of Park Service statistics by the National Parks Conservation Association. There are entire communities whose hotels, restaurants and tour companies rely heavily on the visitors to survive.

Tusayan, which borders the south entrance to Grand Canyon National Park, gets 80 percent of its revenue from the sales taxes paid on lodging and food, said Will Wright, the town manager.

At Tusayan's Best Western hotel, managed by Mayor Greg Bryan, cancellations came in all morning, he said, as did questions.

Many of the guests are from overseas, and a majority of them "do not understand what's going on," Mr. Bryan said.

Kristen Jarnagin, a senior vice president at the Arizona Lodging and Tourism Association, said that about 37 million tourists visit Arizona each year, and that the Grand Canyon is the destination for about 10 percent of them.

"When our top attraction is closed," Ms. Jarnagin said, "there's an impact on immediate tourism, on future and potential tourism, but, more importantly, on our image."
[Images via ABCNews, Wikipedia, PinkJeepTours, US Health Works Gawker, Twitter]
——
>> Follow Evan McMurry (@evanmcmurry) on Twitter
Have a tip we should know? tips@mediaite.com