Pastor Blames Colorado Floods on Gays, Marijuana, Abortions Offending 'Whoever Wrote the Bible'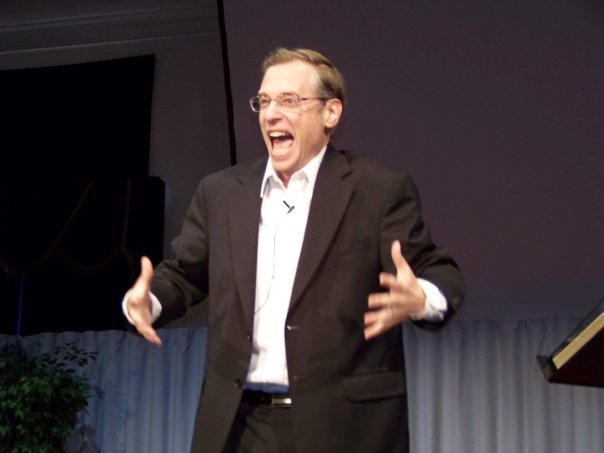 Media-savvy religious figures blaming catastrophes on social political issues is nothing new, but one Colorado Pastor is doing it with style. Pastor Kevin Swanson, host of the Generations With Vision radio show and Pastor of the Reformation Church OPC (yeah you know me), took to the airwaves to blame the recent historic flooding in the state on marijuana, abortion, and "decadent homosexual activity" (righteous gay sex is fine, so just put your heart into it), which he says are designed to offend "whoever wrote the Bible."
This familiar theme has probably never been put quite that way before. RawStory somehow managed to dig out this online-only radio gem (emphasis mine):
On his Generations With Vision radio show, Swanson reminded listeners that state House Speaker Mark Ferrandino had been photographed by the Denver Post kissing his gay partner.

"Is it a coincidence that this was the worst year politically in the history of Colorado, at least if you use God's law as a means of determining human ethics?" he asked. "Our legislators committed homosexual acts on the front page of the Denver Post, do you remember that?"

He continued: "So here we have the very worst year in Colorado's year in terms of let's kill as many babies as possible, let's make sure we encourage as much decadent homosexual activity as possible, let's break God's law with impudence at every single level, at every single level let's make sure that we offend whoever wrote the Bible, so we have the worst year possible politically in the state of Colorado and it happens to be the worst year ever in terms of flood and fire damage in Colorado's history."
The gay pot-bashing stuff is nothing new, but "whoever wrote the Bible" is a new one. Swanson's scripture readings must be a real treat. "Our whoever, who art wherever, hallowed be thy name, whatever it is."
The funniest part of this story isn't even the clip, though. That's sort of a tie between the FAQ section of Swanson's church website, which features questions and answers like this:
Where is your list of programs?
We don't have a list of programs.

What can this church offer me?
Wrong question.

What can I do with this body of believers?
That's better. You can worship God, love the brothers, and serve one another. Our church is about relationships, vertical and horizontal.
And the fact that Pastor Kevin Swanson's ministry is very focused on homeschooling (he was Executive Director of Christian Home Educators of Colorado), but his church currently meets at (wait for it) a public elementary school. Thank Whoever for that.
Have a tip we should know? tips@mediaite.com