Pat Smith, Mother of Slain Benghazi American, Will Be Trump's Guest at Tomorrow Night's Debate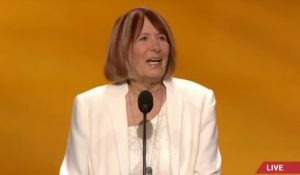 For people wondering how Donald Trump would one-up his own performance from the last debate of having the Clinton accusers there in the debate hall, you now have your answer.
Pat Smith, the mother of Information Officer Sean Smith who was killed in the September 12, 2012 attack in Benghazi, has accepted Trump's invitation to attend tomorrow night's event in Las Vegas. Smith makes frequent cable news appearances, and has memorably lashed out against Hillary Clinton for her role in the attacks on the Libyan compound.
On August she decried on CNN, "I was treated like dirt," by Clinton while the family of United States Army Captain Humayun Khan was revered at the DNC. In 2013, Smith appeared before a congressional committee to slam the entire Obama administration, saying then in no uncertain terms, "I was told a few things and they were all lies… Obama, and Hillary, and Panetta, and Susan [Rice] all came up to me at the casket ceremony – every one of them came up to me, gave me a big hug – and I asked them what happened."
She even spoke at this year's Republican National Convention in Cleveland, continuing her firm anti-Clinton rhetoric. She told the crowd this summer, "For all of this loss, for all of this grief, for all of the cynicism the tragedy in Benghazi has wrought upon America, I blame Hillary Clinton. I blame Hillary Clinton personally for the death of my son."
Smith confirmed that she will be in attendance Wednesday night from the campus of UNLV. "I think I'm going to be in the front row. But I'm not sure," she told Yahoo News.
Have a tip we should know? tips@mediaite.com