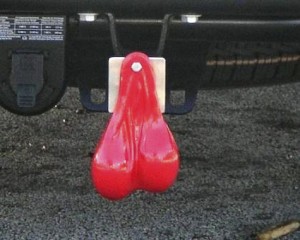 I have a lot of fond memories from growing up in Florida: Ocean breezes. Tossing lettuce leaves to a family of manatees swimming idly in the bay behind my school. Abundant early bird specials. And, most of all, the gentle swaying of truck nuts as Florida drivers pummeled one another to death each and every rush hour.
I haven't seen too many of these outside of southern states like Florida, Georgia and the Carolinas but, for a time anyway, they seemed to be quite the rage in my former neck of the woods. Which is why it is with a mix of pride and nostalgia that I announce truck nuts — and South Carolina resident Virginia Tice — as Mediaite's Patriot of the Week. Yes, it's only Tuesday, but — as the old saying goes — nothing tops truck nuts.
Tice was driving her pickup truck into a gas station when she was pulled over by local police chief Franco Fuda and asked to remove a pair of bright red testicles hanging from her trailer hitch. Tice refused and was subsequently slapped with a $445 fine for having violated South Carolina's obscene bumper sticker law, which prohibits vehicles from displaying stickers or devices "in a patently offensive way, as determined by contemporary community standards, sexual acts, excretory functions, or parts of the human body." It should be noted that, in Florida, one can be fined $60 specifically for displaying truck nuts.
Fuda maintains that the law is clearly on his side. Tice's lawyer argues that his client is simply sharing a portion of the human anatomy, and it is natural and beautiful so there.
Also, this happened:
"He is nuts," says Jay Bender, a lawyer and professor at the University of South Carolina, referring to Fuda and his interpretation of the law.
Tee hee.
So, for stirring both funny feelings and debates on freedom of expression, we salute you, truck nuts, as our Patriot of the Week. Hang in there, little guys.
h/t FoxNews.com
Have a tip we should know? tips@mediaite.com