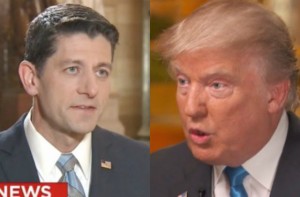 At long last, House Speaker Paul Ryan has apparently found the, "standard-bearer that bears [the] standards" of the Republican party.
Speaking with CNN's Jake Tapper on May 5, Ryan shocked the political media world when he simply said that he was not yet prepared to formally endorse Donald J. Trump as the GOP nominee.
"At this point I'm just not there right now," said Ryan, who quickly got harangued by everyone from Sarah Palin to Sean Hannity for his refusal to back the presumptive nominee. "We have work to do," Ryan said that day. "As a lifelong conservative, I want to see our party unify."
What followed was a delicate game of jockeying by the House Speaker, careful not to ostracize the scores of conservatives hesitant to hop on board the Trump Train while still keeping the door open for reasonable compromise. Ryan calmly suggested that he would be willing to step down as convention chair, saying of Trump, "He's the nominee. I'll do whatever he wants with respect to the convention." Then in a media fracas in Washington DC, Paul Ryan finally met with Trump in a closed-door meeting, and released a joint statement afterwards that read in part, "We will be having additional discussions, but remain confident there's a great opportunity to unify our party and win this fall, and we are totally committed to working together to achieve that goal."
But Ryan has confirmed today that he will vote for Trump:
Through these conversations, I feel confident he would help us turn the ideas in this agenda into laws to help improve people's lives. That's why I'll be voting for him this fall.
Now, when the Gazette Xtra reached out to Ryan's office to confirm whether this was an endorsement, this is what they said:
"He said he'll vote for Trump in the piece. That speaks for itself, in our view."
But then came this tweet from a Ryan spokesman:
We're not playing word games, feel free to call it an endorsement.

— Brendan Buck (@BrendanBuck) June 2, 2016
So there you have it.
Have a tip we should know? tips@mediaite.com