Pelosi and Schumer Release Holiday Bash: 'It's Christmas Eve and President Trump is Plunging the Country into Chaos'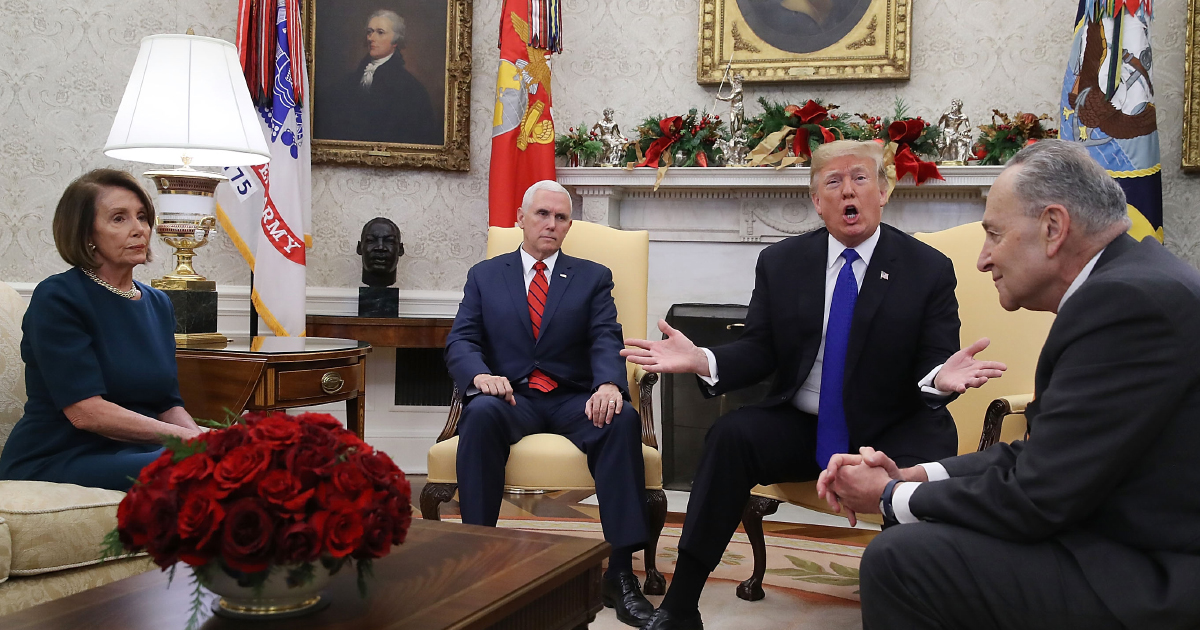 Not bash like a party or shindig, bash like bashing your enemies. That's what Democratic leaders Rep. Nancy Pelosi (D-CA) and Sen. Chuck Schumer (D-NY) released on Christmas Eve about Donald Trump in an official joint statement.
"It's Christmas Eve and President Trump is plunging the country into chaos," the statement begins. "The stock market is tanking and the president is waging a personal war on the Federal Reserve – after he just fired the Secretary of Defense."
In the statement, released in full and as a tweet thread, they attack the shutdown, of course, and repeat a message that has been prominent in the last few days among the press, particularly on CNN, and Democrats on social media: Trump is being led by right wing media.
"Instead of bringing certainty into people's lives, he's continuing the Trump Shutdown just to please right-wing radio and TV hosts," it says. CNN's Brian Stelter held a panel discussion on the same topic on Sunday's Reliable Sources.
Naturally it also references the joint meeting they were in with the President, during which he said he'd be proud to shut the government down over the border wall.
"Meanwhile, different people from the same White House are saying different things about what the president would accept or not accept to end his Trump Shutdown, making it impossible to know where they stand at any given moment. The president wanted the shutdown, but he seems not to know how to get himself out of it."
"As long as the president is guided by the House Freedom Caucus," they said, shifting from right wing media, "it's hard to see how he can come up with a solution that can pass both the House and Senate and end his Trump Shutdown."
So, uh… Merry Christmas? .. to all!
[Featured Photo by Mark Wilson/Getty Images]
—
Follow Caleb Howe (@CalebHowe) on Twitter
Have a tip we should know? tips@mediaite.com