Pence Says Despite Having a Transition Email, Gen. Flynn's Conspiratorial Son Is Not on Team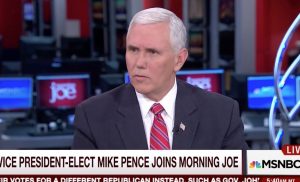 One of Donald Trump's most controversial appointments has been Lieutenant General Michael Flynn, who was recently tapped to serve as our nation's next National Security Advisor, a role that does not require further confirmation.
However, Flynn is a bit of a wildcard and his documented head-scratching past on social media have left many to wonder about his penchant for the conspiratorial. And he is not alone; his son, Michael G. Flynn, has engaged with similar strange behavior. As the New York Times wrote, "Both… have used social media to spread fake news stories linking [Hillary] Clinton to underage sex rings and other serious crimes, backed by no evidence."
CNN's KFILE team dug deeper into the social media history of the younger Flynn, writing yesterday that he, "regularly shares conspiracy theories, expletive-filled posts, and racially insensitive sentiments on Twitter and Facebook." They further write:
Flynn's son, Michael G. Flynn, shared stories alleging top Hillary Clinton aide Huma Abedin had a connection to the Muslim Brotherhood, pushed a conspiracy theory that Sen. Marco Rubio was a closeted homosexual who abused cocaine, and repeatedly used expletives to attack Trump's political opponents.
It was then reported that Michael G. Flynn not only serves as a crucial aide to his father, but also has an official government email address on behalf of the transition team. The son stoked further headlines this weeks by Tweeting about the incident of violence at a D.C. pizza shop spurred on by a fake news story:
Until #Pizzagate proven to be false, it'll remain a story. The left seems to forget #PodestaEmails and the many "coincidences" tied to it. https://t.co/8HA9y30Yfp

— Michael G Flynn?? (@mflynnJR) December 5, 2016
But Vice President-elect Mike Pence says it's simply untrue that Michael G. Flynn is a part of the transition effort. "There's a growing concern… about the fictitious stories," that the Flynns have peddled said Mike Barnicle to VP-elect Pence on Morning Joe Tuesday. "What's the level of concern inside your general security apparatus about General Flynn's son?"
"Well, General Flynn's son has no involvement in the transition whatsoever," said Pence.
"But he has a transition email," rebutted Barnicle.
Pence said easily, "Well he has no involvement in the transition whatsoever," a point that cohost Joe Scarborough sought to clarify without hesitation.
Watch above via MSNBC.
—
[image via screengrab]
J.D. Durkin (@jivedurkey) is an editorial producer and columnist at Mediaite.
Have a tip we should know? tips@mediaite.com