Person Claiming To Be Former Countdown Employee Slams Keith Olbermann In Scathing Gawker Post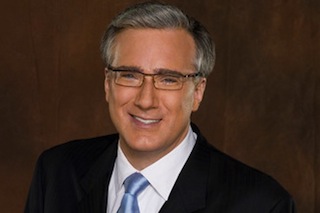 On the bright side, Keith Olbermann is probably getting more headlines in the past week than in his entire time at Current TV (and possibly some of his MSNBC time as well). On the downside, most of them haven't been great headlines. Following The New York Times' reports that there were tensions between the anchor and his new home, Gawker has posted a blistering slam from someone purporting to be a former employee. Olbermann immediately accused Gawker of being "pwned by a fake source."
Olbermann Announces He Will Be 'Running' Current's Election Coverage After NH
The exposé allegedly comes from a former staff member of MSNBC's version of Countdown who claims that, during his or her time there, there was a 75% staff turnover rate, almost entirely because Olbermann was "the walking definition of a hostile work environment." The writer claims that, if Olbermann "didn't like someone, he'd berate them and belittle their work until they left the show," and gives a few examples of harsh altercations between he and employees.
From Gawker:
"Finally, this is not about him being nice or not being nice, this is about him creating a toxic,abusive, unsustainable work environment wherever he goes, and taking his issues out on everyone around him, not just the execs. He made several people on our show cry on a fairly consistent basis. These were not soft people, either. These incidents I mentioned above might not seem that bad, but when taken together, along with other stuff I've forgotten, they created an atmosphere where the collective dread of his arrival into the studio at 2:30 would be palpable. The other anchors at MSNBC weren't all nice, but they managed to be professional. He needs to get help and learn to be a functioning adult, seriously."
Olbermann was quick to respond, tweeting reasons why the account can't be believed: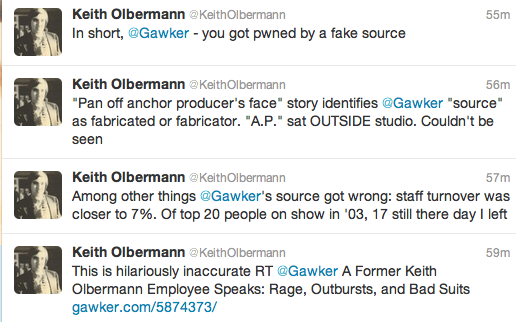 Fortunately, this article follows the positive news that Olbermann had resolved whatever differences he may or may not have had with Current TV and that he would be running their campaign coverage starting after the New Hampshire primary.
The full Gawker piece can be found here.
Have a tip we should know? tips@mediaite.com