Peter Thiel Speaks Out on Covering Hulk Hogan's Legal Expenses: Gawker's 'Bullying People'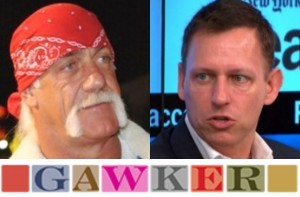 PayPal co-founder Peter Thiel has officially confirmed that he covered Hulk Hogan's expenses during his trial against Gawker, which ended in Hogan winning over $100 million in damages.
A report yesterday said Thiel was covering Hogan's expenses, following months of speculation from many (including Mediaite founder Dan Abrams) that Hogan was receiving such funding.
Thiel spoke out to The New York Times and confirmed that a 2007 Gawker post outing him was partly the reason:
A 2007 article published by Gawker, "Peter Thiel is totally gay, people," and a series of articles about his friends and others that he said "ruined people's lives for no reason" drove Mr. Thiel to mount a clandestine war against Gawker, funding a team of lawyers to find and help "victims" of the company's coverage to mount cases against Gawker.

"It's less about revenge and more about specific deterrence," he said in his first interview since his identity was revealed. "I saw Gawker pioneer a unique and incredibly damaging way of getting attention by bullying people even when there was no connection with the public interest."
He felt it would be helpful to "fight back" after witnessing others being targeted by Gawker in "very painful" ways.
Thiel, who is supporting Donald Trump, insisted he fully believes in supporting journalism, and he has even donated to the Committee to Protect Journalists, but he argues, "It's precisely because I respect journalists that I do not believe they are endangered by fighting back against Gawker."
Basically, he has no big beef with other media companies; Thiel just believes Gawker is the worst:
"It's not like it is some sort of speaking truth to power or something going on here. The way I've thought about this is that Gawker has been a singularly terrible bully. In a way, if I didn't think Gawker was unique, I wouldn't have done any of this. If the entire media was more or less like this, this would be like trying to boil the ocean."
The jury in the Hogan-Gawker case not only awarded him $115 million, but Gawker, founder Nick Denton, and former EIC A.J. Daulerio had to give Hogan a combined $25 million
Have a tip we should know? tips@mediaite.com
Josh Feldman - Senior Editor