Photo Of Wasserman Schultz Aide Using Derogatory Slur Goes Viral – But It Shouldn't
Dani Gilbert, newly appointed Jewish outreach liaison and staffer Rep. Debbie Wasserman Schultz (D-FL), is facing a growing firestorm of controversy after a number of publications picked up on a picture posted to her Facebook account where Gilbert refers to herself and her friends as "Jewbags" and the "Jew cash money team."
The picture dates back to 2006 – but is enjoying new life today as a number of publications have picked up on the derogatory caption beneath the photograph.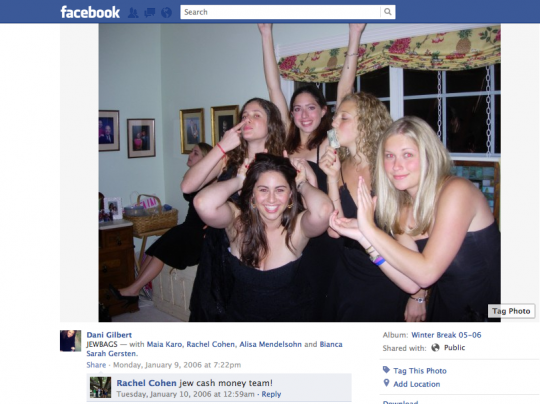 The Miami Herald's "Naked Politics" blog originally reported the scandal. The conservative online publication Free Beacon has also picked up on the story. A local Florida political blog Shark-Tank.net has also reported on the story and has posted a picture of Gilbert who bears a striking physical resemblance to Wasserman Shultz herself.
Gilbert was recently appointed as the Democratic National Committee's Jewish outreach liaison and, prior to that, had served as a part-time staffer in Wasserman Shultz Florida offices.
This "scandal" ranks in the "not-a-really-big-deal-unless-it's-a-slow-news-day" category – which it is not, actually, so it is still unclear as to why this photo is making such a splash this afternoon.
At best, this is a cautionary tale about youthful interaction on social media accounts. At worst, it is a commentary on conservative media itself. Rep. Wasserman Shultz being an extraordinarily high profile target and even her most loosely affiliated staff is fair game, but decorum demands that Gilbert's young and possibly fragile career not be subject to partisan attacks.
The photograph's caption is admittedly inflammatory, but it is six years old. People make mistakes when they are young. This should not be an impediment to Ms. Gilbert's budding career today. There is no shortage of substance with which conservative publications can use to discredit Rep. Wasserman Shultz. Focusing on a six-year-old photograph from a junior staffer dilutes the strength of more substantial arguments against the DNC chair's credibility as a source for anything other than Democratic talking points.
h/t Jonah Goldberg
Have a tip we should know? tips@mediaite.com