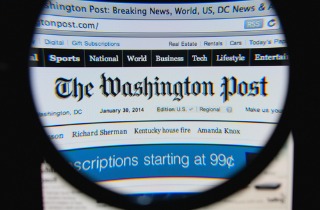 A top European Union court ruled in favor of the "right to be forgotten" principle earlier this year, thus opening the floodgates for people who want certain web pages and search results to be taken down. And now a pianist is using the "right to be forgotten" to request The Washington Post take down a bad review from a few years ago.
The Post revealed just days ago that pianist Dejan Lazic reached out to them and, invoking the right to be forgotten, asked them to take down a less-than-flattering review filed back in 2010 by Post writer Anne Midgette. If you put Lazic's name into Google, the first result is his website, and the second is the Post review.
The Post's write-up on Lazic's request frames this as a "truly fascinating, troubling demonstration of how the ruling could work." Lazic took to his own website to explain himself and to respond to the Post piece.
He says this isn't just about a bad review (albeit one he believes "crosses the line of good taste and fair journalism"), but about the prominence of the piece on Google:
I am not only speaking for myself here but also for many colleagues I dearly respect and/or I have made music and shared same stage with, all of which this particular reviewer criticised on so many occasions so harshly and unfairly, in a manner that is – in comparison with all the other reviews they have ever received (good, tepid, and bad) during their long and highly successful careers (in maestro Placido Domingo's case: 50 years) – simply over the top in sheer negativity and toxicity.

That simply does not comply with the principle of fairness in journalism.
He argues that such a "highly destructive" review can unfairly hurt artists trying to get their name out there.
[h/t TechDirt]
[image via Gil C/Shutterstock]
— —
Follow Josh Feldman on Twitter: @feldmaniac
Have a tip we should know? tips@mediaite.com
Josh Feldman - Senior Editor