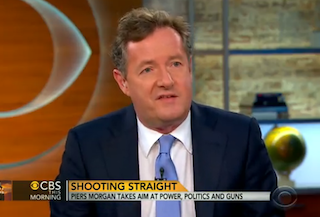 Piers Morgan may no longer be a nightly fixture on CNN, but rest assured he is still a hot commodity. In fact, he just got a job offer to work at British newspaper The Grimsby Telegraph. An entry-level position. As a low-level reporter. (As a joke.)
See, what happened was Morgan got into a Twitter spat over something to do with British sports and insulted Grimsby fans (in a reference I'm sure the few Mediaite readers who also follow England football matches will understand right away). Anyway, David Montgomery, the chief executive of the paper's parent group and former boss of Morgan's, offered Morgan a nice little job now that CNN's given him the old heave-ho from primetime.
He said: "As Piers is between jobs at the moment, and as we like to encourage young talent within Local World, it would be nice to think we could offer him an opportunity as a trainee football reporter with the Grimsby Telegraph.

"From what I can tell, Piers's opinions on the beautiful game are not always well received by fans, so with a little help from our excellent sports team on the Humber, we might be able to help him get back on his feet."
Morgan, of course, sarcastically welcomed the honor.
Always yearned to be big in Grimsby > RT @AndyP_GY Congrats on your new role as the town's number one celebrity, Piers. You must be honoured

— Piers Morgan (@piersmorgan) April 24, 2014
Tempted by @GrimsbyTel 's kind offer but this is the problem: 1) http://t.co/jSSyqMeiS1 2) http://t.co/yC1UC4gV0I #GrimUpNorth

— Piers Morgan (@piersmorgan) April 24, 2014
[h/t HuffPost]
[photo via screengrab]
— —
Follow Josh Feldman on Twitter: @feldmaniac]
Have a tip we should know? tips@mediaite.com
Josh Feldman - Senior Editor