Piers Morgan Gushes Over Trump's Twitter Habits: I'm in Awe of 'His Absolute Mastery'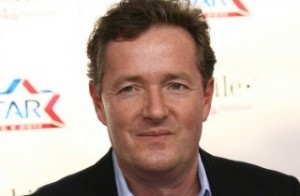 Daily Mail editor Piers Morgan penned a column today where he went all in to congratulate Donald Trump for winning the presidency through his provocative use of social media.
Morgan attributed the mogul's success to his unfiltered communication with voters through Twitter, even if Trump's tweets make him seem "rude and offensive" as often as "direct" and "authentic." Morgan said that these antics allowed Trump to keep the media's focus on him, using controversy and outrageousness to trap them in an endless cycle of coverage:
"I am in awe of his absolute mastery of the medium… I'm also flabbergasted at just how dumb much of the American media has been, and continues to be, in letting Trump play them in such an obvious way. Every time they throw their high-minded journalistic toys out of their strollers at one of his tweets, Trump wins. His brand thrives on the oxygen of TV coverage, newspaper headlines and the media's faux outrage. It always has.
Morgan went on to say that Trump's antics gave him an edge over Hillary Clinton in the sense that he was allowed to act dynamic and incendiary while she was reserved and "uninspiring." Morgan also thought that now that he's President-elect, Trump doesn't have any more reason to heed requests from the media or "pompous New York and Washington elites" who want him to act presidential.
'Why should I listen to any of them?' he asks himself, 'when I won by ignoring their advice throughout the election?' I couldn't agree more," Morgan wrote. "The whole point of Trump's tweets is that they are as far removed as humanly possible from the way any 'normal' president or politician would ever speak in public."
Morgan concluded by asking Trump to keep on infuriating critics and never stop tweeting.
Read Morgan's piece here, via Daily Mail.
[Image via shutterstock]
— —
>> Follow Ken Meyer (@KenMeyer91) on Twitter
Have a tip we should know? tips@mediaite.com