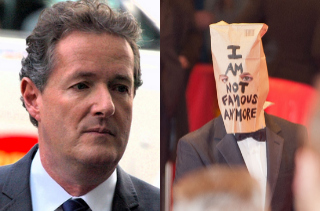 Piers Morgan has made the alleged rape of Shia LaBeouf by a female fan his cause of the day, first getting into a Twitter war with one of the actor's collaborators and then penning screed against the allegations in his Daily Mail column.
It all started when LaBeouf described the incident, which he said occurred during his Los Angeles performance art project #IAMSORRY last year, in which attendees were encouraged to enter a room and interact with LaBeouf, who, of course, wore a paper bag over his head.
Here is how he described the rape to Dazed magazine:
One woman who came with her boyfriend, who was outside the door when this happened, whipped my legs for ten minutes and then stripped my clothing and proceeded to rape me… There were hundreds of people in line when she walked out with dishevelled hair and smudged lipstick. It was no good, not just for me but her man as well. On top of that my girl was in line to see me, because it was Valentine's Day and I was living in the gallery for the duration of the event – we were separated for five days, no communication. So it really hurt her as well, as I guess the news of it travelled through the line. When she came in she asked for an explanation, and I couldn't speak, so we both sat with this unexplained trauma silently. It was painful.
"What a load of absolute baloney, and what a repulsive insult to every single person who has ever been genuinely raped," Morgan wrote in response. "Shia LaBeouf is one of the toughest actors in Hollywood. He recently cut his own face with a knife during filming of Fury to make his scars look more realistic. If he'd wanted to stop this complete stranger supposedly 'raping' him, all he had to do was physically stop her himself or shout for help. But he didn't. He just let it all happen."
Over the weekend, Luke Turner, an artist who worked with LaBeouf on #IAMSORRY, confirmed the incident on Twitter, and pushed back against questions about it from Morgan:
A couple of important clarifications about our #IAMSORRY project earlier this year:

— Luke Turner (@Luke_Turner) November 30, 2014
Nowhere did we state that people could do whatever they wanted to Shia during #IAMSORRY.

— Luke Turner (@Luke_Turner) November 30, 2014
As soon as we were aware of the incident starting to occur, we put a stop to it and ensured that the woman left.

— Luke Turner (@Luke_Turner) November 30, 2014
@piersmorgan It wasn't clear at the time precisely what had happened, & the 1st priority was to ensure everybody's safety in the gallery…1/2

— Luke Turner (@Luke_Turner) November 30, 2014
@piersmorgan She ran out, rather than simply walking away. Beyond that, it's not my place to comment. 2/2

— Luke Turner (@Luke_Turner) November 30, 2014
After posting his piece on Daily Mail, which attempts to systematically define why the incident LaBeouf describes should not be considered "rape," Morgan started going after the women of Jezebel for their critique:
My dear friends @Jezebel call me a 'dick bucket' over LaBeouf. How dismally predictable… > http://t.co/y4hA2ZbwTh

— Piers Morgan (@piersmorgan) December 1, 2014
Can you imagine the sheer unimaginable hell of being trapped on a desert island in perpetuity with the ladies from @Jezebel …

— Piers Morgan (@piersmorgan) December 1, 2014
[h/t Jezebel]
[Photos via Wikimedia Commons]
— —
>> Follow Matt Wilstein (@TheMattWilstein) on Twitter
Have a tip we should know? tips@mediaite.com