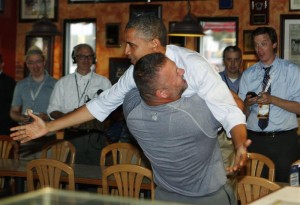 Scott Van Duzer, the Florida pizzeria owner who made headlines after he gave President Barack Obama a bear hug and lifted him off the ground, said on Monday that people are boycotting his restaurant. He added that that's exactly the issue with our country right now.
RELATED: Pizzeria Owner Literally Picks Up Pres. Obama During Unannounced Campaign Stop
He remarked that while both Democrats and Republicans are welcome in his pizza place, he's been facing some negativity.
"People are saying a lot of bad things and boycotting my restaurant," Van Duzer told POLITICO. "There's no middle line anymore, and that's exactly what's wrong with our country right now."
On another note, Van Duzer asserted that the president could take on GOP vice presidential nominee Paul Ryan, who has somewhat of a reputation for his workout routine. "Obama looked pretty fast and pretty quick on his feet," he said.
Van Duzer founded the Van Duzer foundation in 2008, aiming to raise awareness about blood donation shortages. That effort is partly why Obama chose to visit the eatery (via POLITICO):
"One of the reasons that we wanted to stop by is that Scott has been doing unbelievable work out of this pizza shop in promoting the importance of donating blood," Obama told the Times. "And so he has set some records here in Florida. He has received commendations from the White House, the surgeon general, he has galvanized and mobilized the local community and he's educating kids and folks all across the country on this issue."
Lifting Obama wasn't much of a feat for Van Duzer, who said he bench presses 350 pounds at six reps.
(H/T POLITICO)
Have a tip we should know? [email protected]