Plans For Mitt Romney's Beach Home Renovation Include Separate Elevator For Cars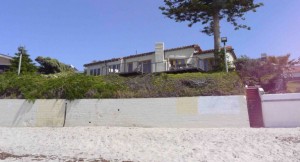 Amid the frenzy of his presidential bid, GOP frontrunner Mitt Romney has taken on another project. His house. POLITICO reports plans for Romney's California beach house — complete with an elevator for the cars and an outdoor shower. The goal is to replace the existing home with one that is more than three times larger.
The story notes, "The documents were provided to POLITICO by a rival campaign, but authenticated independently by POLITICO with San Diego officials."
The massive renovation (plans call for a 3,600-square foot basement, "a room with more floor space than the existing home's entire living quarters") has had some outside help: "its own lobbyist, hired by Romney to push the plan through the approval process." Though San Diego officials said such a move is "not unusual" for homeowners who take on undertakings of this scale.
"To help facilitate the construction plans," Romney has paid "San Diego attorney Matthew A. Peterson $21,500 since 2008 to lobby city officials for the renovation after dropping out of the 2008 GOP presidential primary." From POLITICO:
Peterson, according to the biography on his the website of his law firm, Peterson & Price, A.P.C., is a "registered lobbyist" for clients on real-estate matters. His practice "emphasizes municipal and governmental advocacy" for clients seeking building permits, "property development entitlements" and "zoning violation matters."

On Jan. 1, 2012, Peterson gave $1,000 to Romney's presidential campaign. It is the only political contribution he made to a federal candidate that appears under his name on the Federal Election Commission's website.
Among others, planned amenities are said to include "a split-level, four-vehicle garage that comes with a 'car lift' to transport automobiles between floors." As the story observes, the move may not help Romney, "whose wealth has caused him trouble connecting with average folks."
At the request of the U.S. Secret Service, "in a coordinated appeal with the Romney campaign," POLITICO agreed not to publish the blueprints. The Secret Service cited "operational security" reasons.
Have a tip we should know? tips@mediaite.com