PolitiFact Launching New Site Dedicated to Fact-Checking TV and Radio Pundits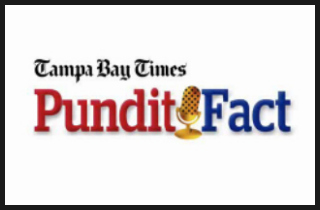 The Tampa Bay Times' Pulitzer-winning fact-check website PolitiFact has announced that it will launch a new site called PunditFact, dedicated to combing over the claims of pundits, columnists, bloggers, and talk show hosts/guests.
Funded by $625,000 in two-year grants from the Ford Foundation and the Democracy Fund, PunditFact will have a staff of journalists researching media personalities' claims and rating them using the same "Truth-O-Meter" style as PolitiFact. Some of the pundit-checking content will be featured on PolitiFact's main page.
The Times's VP and editor Neil Brown said of the new venture: "Pundits on TV and radio, as well as bloggers and columnists, are prominent voices in our political discourse, yet sometimes they blur the lines between opinion and fact. Now we will hold them accountable, much as we've done with politicians."
"PunditFact will be about accountability, not sanctimony," he added. "We think consumers of political information will welcome our independent and credible reporting."
The Ford Foundation praised the new initiative as being "poised to play a critical part in reaffirming the role of facts in our civic dialogue." The Democracy Fund added that they are pleased to "support this effort to encourage pundits of all political stripes to stick to the facts."
Much like PolitiFact groups together fact-checks by specific politicians, PunditFact will also have report cards for individual pundits.
Although most of us media reporters relish the idea of someone keeping the pundits accountable, you can guarantee the website's findings will often be controversial and disputed (see: Rachel Maddow), especially when dealing with deep-seated partisan issues.
— —
>> Follow Andrew Kirell (@AndrewKirell) on Twitter
Have a tip we should know? tips@mediaite.com