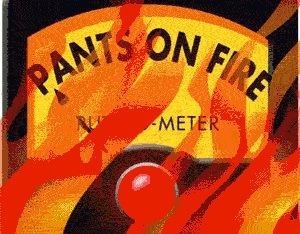 The fact checking organization PolitiFact has taken on allegations levied by Senate Majority Leader Harry Reid (D-NV) that Republican presidential candidate Mitt Romney paid nothing in taxes for 10 years. The organization has rated Reid's claim as meriting the dubious "pants on fire" rating.

Both conservatives and liberals are fond of mocking PolitiFact for their usually restrained ratings that allow for some wiggle room when making judgement calls about which politician or group has more veracity in the daily political food fight.
For example, PolitiFact recently rated Tennessee's GOP Rep. Chuck Fleischmann's claim President Barack Obama said "small businesses succeed because of government" as being "false" – the President did not, in fact, say those words. This fact, however, was not enough to merit a "pants on fire" rating.
Meanwhile, PolitiFact also rated Karl Rove's Crossroads GPS' claim that President Obama's administration has overseen a $4 billion increase in the national debt per day as "half true." Why did PolitiFact find this only partially accurate? They cite an expert who blames the debt increase not just on simulative government spending but also reduced tax income from a higher unemployment.
There is a lot to be said for a group which aggravates conservative and liberals in equal measure, and fact checking can sometimes be a subjective exercise. However, rating Reid's claim was simply a no-brainer.
In examining the potential credibility of Reid's claim, PolitiFact interviewed a number of experts who found the charge that Romney paid nothing in taxes over 10 years highly unlikely.
Reid has said Romney paid no taxes for 10 years. It was no slip of the tongue. He repeated the claim on at least two more occasions, at one point saying that "the word is out" when in fact it was only Reid who put that "word" out.

Reid has produced no evidence to back up his claim other than attribution to a shadowy anonymous source. Romney has denied the claim, and tax experts back him up, saying that the nature of Romney's investments in Bain make it highly unlikely he would have been able to avoid paying taxes altogether — especially for 10 years.

Reid has made an extreme claim with nothing solid to back it up. Pants on Fire!
h/t PolitiFact
> >Follow Noah Rothman (@Noah_C_Rothman) on Twitter
Have a tip we should know? tips@mediaite.com