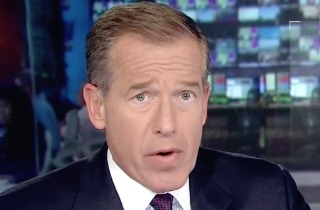 A new poll released on Monday found that 40 percent of Americans believe NBC Nightly News anchor Brian Williams should resign amid a recanted story he told involving a helicopter he was in while covering the Iraq War in 2003. And the same percentage of Americans are less likely to trust the reporting of NBC News as a result of Williams' embellishment.
Those results come from a Rasmussen Reports national telephone poll, which also found that 35 percent do not think Williams should resign and 25 percent are not sure. 45 percent said there has been no effect on how much they trust NBC.
The Rasmussen poll also found that 56 percent of Americans have a favorable or very favorable opinion of Brian Williams, while 51 percent have an unfavorable or very unfavorable view of him. Even in light of the current media attention on Williams, CBS Evening News anchor Scott Pelley is viewed in a much worse light — only 25 percent view him favorably or very favorably, while a whopping 62 percent have no opinion of him.
RELATED: 'Off With His Head': The Obsession to Bring Down Brian Williams
There is also — as expected — a partisan aspect to Americans' responses. None of the big three networks are popular among Republicans, the poll found. As Rasmussen notes, even with George Stephanopoulos' past as an advisor in the Clinton Administration, Republicans now like him more than Williams. Most Democrats view both men favorably.
To round out the numbers, 58 percent of Republicans, 25 percent of Democrats and 40 percent of independents are now less likely to trust the reporting of NBC News. Republicans and independents are more likely than Democrats to believe Williams should resign.
More than 13,000 Mediaite readers responded to our poll, which found that 70 percent of you believe NBC should fire Brian Williams.
[Image via screengrab]
— —
>>Follow Andrew Desiderio (@forza_desiderio) on Twitter
Have a tip we should know? tips@mediaite.com