POLL: 70% of Voters Agree With Roe v. Wade, Majority Oppose Cutting Funds to Planned Parenthood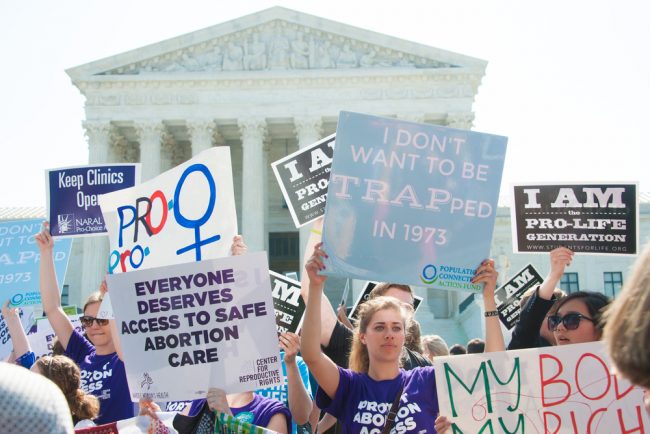 While tens of thousands of anti-abortion activists have gathered in Washington, D.C. for the annual March for Life, a new poll out by Quinnipiac University shows that the vast majority of American voters support the landmark 1973 Supreme Court decision that established a woman's right to an abortion.
According to the survey, 70% of American voters agree with the decision, compared with only 26% who do not favor it. Democrats were extremely in favor of Roe v. Wade, with 91% showing support and only 7% stating that they did not agree with it. Republicans were split, with 54% expressing disapproval with the decision while 43% said they supported it. Independent voters were pretty much in line with the population at large, with 70% agreeing compared to 25% disagreeing.
As for the question regarding whether abortion should be legal or not, 64% of respondents said that it should be legal in all or most cases. 22% feel abortion should be illegal in most cases and only 9% stated that it should be outlawed altogether. For Republicans, 33% were in favor of keeping abortion legal in all or most cases, 44% want it illegal in most cases and 18% want it banned outright.
Regarding cutting off funding for Planned Parenthood, which has been proposed by GOP lawmakers in Washington, the American public doesn't think this is such a good idea. 62% of voters oppose cutting off federal funds to the organization while only 31% support the action. 90% of Democrats are in opposition to fund-cutting compared to only 7% who feel it is a good idea. The majority of GOP voters want funds cut (63%) but there are 28% who are opposed to it.
The poll shows that Republican voters aren't in lockstep with GOP members of Congress and the White House, who are overwhelmingly pro-life. Mike Pence became the first sitting vice-president in history to speak at the March for Life today.
[image via Shutterstock]
–
Follow Justin Baragona on Twitter: @justinbaragona
Have a tip we should know? tips@mediaite.com