Poll: Americans Would Rather Keep or Expand Obamacare Than Repeal or Replace It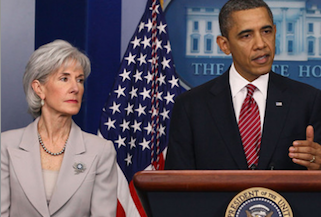 In a new poll released Friday, the Kaiser Family Foundation found the one month after the implementation of the Affordable Care Act's health insurance exchanges, more Americans want keep or expand the law as opposed to repeal or replace it, despite all of the problems with the HealthCare.gov web portal.
The poll asked people to answer what they would "like to see Congress do when it comes to the health care law." As the figure below shows, 22% said "expand the law" and 25% said "keep the law as is" for a combined 47% of respondents. 13% wanted to see Congress "repeal the law and replace it with a Republican-sponsored alternative" and 24% said "repeal the law and not replace it" for a combined 37%.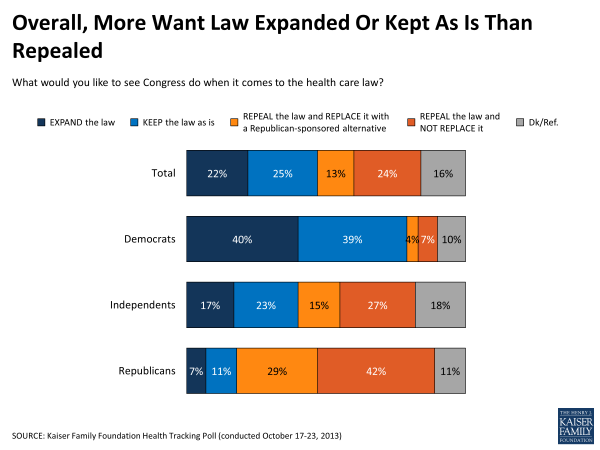 As the Washington Post's Greg Sargent points out, the poll was "taken October 17-23, more than two weeks after the problem-plagued rollout began (though in fairness, before the 'you can keep your plan' furor blew up)." It is significant that the big loser in the poll is the unspecified "Republican-sponsored alternative" given the fact that the GOP has not exactly been forthcoming about offering one up.
One other question from the poll concerned media coverage of the government shutdown/debt ceiling fight vs. the rocky Obamacare website rollout. Respondents were asked how closely they followed four stories that had been in the news last month: the government shutdown/debt ceiling fight, the Obamacare website problems, reports about the U.S. economy and the issues surrounding chemical weapons in Syria.
As the figure below demonstrates, Americans were far more likely to follow the shutdown/debt ceiling story very closely while the Obamacare website story received less overall public attention.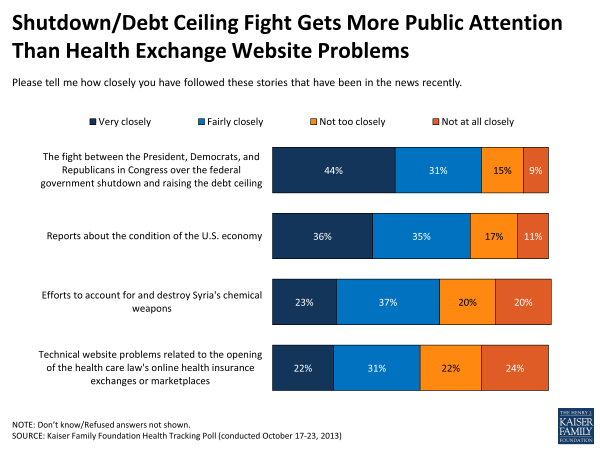 See the full poll results at KFF.org.
[photo via screengrab]
— —
>> Follow Matt Wilstein (@TheMattWilstein) on Twitter
Have a tip we should know? tips@mediaite.com