Poll Finds That Plurality Of Americans Believe Polls Are Skewed (But You Should Totally Trust This One)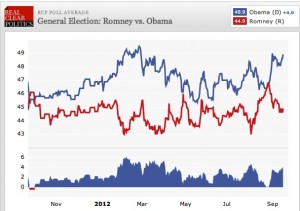 Conservatives have been raising cain over the past week or so about skewed polls showing President Obama with a somewhat substantial lead on Mitt Romney. Many people would agree that polls are hopelessly skewed and don't necessarily represent the exact proportion of people that think one thing or another; now if only there was a way to find out what people think about this issue. And it is with that in mind that the Daily Kos and SEIU conducted a poll to see what people think about the reliability of polls. (This is where the standard "Pollception" joke would go, if we wanted to be silly about it.)
RELATED: Bernie Goldberg Questions Polls On O'Reilly's Show, Says Investigation May Be Needed
The Daily Kos-SEIU poll finds that a significant number of Americans believe that polls are too biased in favor of Obama, which is exactly why they were so eager to be a part of another poll.
Some 42 percent of voters surveyed by Daily Kos and SEIU believe pollsters are manipulating their sample sizes to benefit the incumbent president, while 40 percent do not. An additional 18 percent said they were not sure…

Republicans are particularly likely to believe that the polls are unfair, reporting by a 71-13 percent margin that polls are biased against their candidate. Members of the Tea Party suspect intentional skewing by a remarkable 84-5 percent margin.
How that must have gone: "Hi, we're conducting a poll about how polls are completely skewed and untrustworthy. Could we have a minute of your time?"
[Image via]
Have a tip we should know? tips@mediaite.com
Josh Feldman - Senior Editor