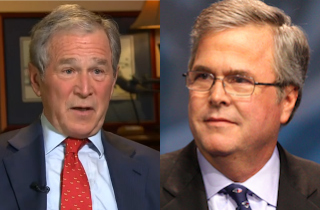 A new Washington Post/ABC News poll finds putative Democratic frontrunner Hillary Clinton beating all GOP competition by double digits, even as her favorability ratings continue to dip after weeks of scrutiny.
Someone else who's leading while having favorability issues: former Florida Governor Jeb Bush (R), who beats all Republican rivals for the nomination while struggling with underwater favorability, 33-53. This is actually worse than his president brother, who has a 47-51 approval rating. (By former president contrast, Bill Clinton has a 73-23 approval rating.)
Favorability and approval are not quite the same thing, the former measuring general persona and the latter measuring job performance, though they have obvious overlaps. President Barack Obama, for instance, routinely posts better favorability ratings than approval ratings.
Hillary Clinton posted good numbers as a "strong leader" with "ideas for the future," but split the respondents on issues of trustworthiness and relatability. Her favorability ratings are the lowest since 2008, the last time she was a contender for elected office. Nonetheless she has no serious competition for the Democratic nomination, and easily defeats the major GOP candidates. Down by 14 points, Bush fares the best against her; Senator Ted Cruz (R) trails by 21 points.
This poll's respondents seemed generally down on GOP candidates; not a single one had positive favorability ratings. Bush led with 20%, followed by Cruz at 13%, and then the rest of the pack. Cruz's second-place finish is indicative of the modest bump he received after announcing his candidacy last week.
All poll caveats apply: nobody casts a vote for at least a year, etc.
[h/t Washington Post]
[Image via screengrab]
——
>> Follow Evan McMurry (@evanmcmurry) on Twitter
Have a tip we should know? tips@mediaite.com