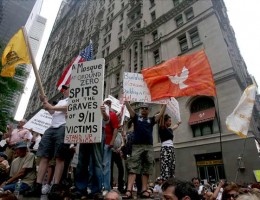 Despite Mayor Michael Bloomberg's impassioned plea last week for the Ground Zero mosque — the Wall St. Journal called it "rather stirring and quasi-elegant" — it seems the majority of New Yorkers across the state have not been won over to the project.
A survey conducted by the Siena College Research Institute says "61 percent of New York state residents oppose the location for the Cordoba House, an Islamic community center and mosque to be built in Lower Manhattan, just two blocks away from Ground Zero." Which no doubt will be a number bandied about in the cablesphere for the next few weeks, however a closer look reveals it is not quite that simple.
While "Large majorities of all New Yorkers, every party, region
and age give a thumbs-down to the Cordoba House Mosque being built near the Ground Zero site" according to the Institute that held the poll, "only just over half of all New Yorkers, even city residents say they have been following the news about the proposed mosque closely." Meaning, this may not have registered as news for people who don't watch a lot of cable TV. [Emphasis mine.] Moreover, the people most opposed to the Mosque may not actually live in New York City.
According to the poll's results, opposition to the Islamic center is greatest among those who live in the suburbs and Upstate New York, and among those who identify as conservative (85 percent of conservatives surveyed said they were against the center, whereas only 11 percent supported it).
That said, it is interesting to note that opposition does not cut cleanly across partisan lines.
A majority of liberals (52 percent) and moderates (55 percent) are also opposed to the building's location according to the survey, showing that opposition to the Cordoba House crosses ideological lines.
It remains to be seen whether this opposition will result in any sort of movement that can stop the building, which received a go-ahead last week, in the meantime it will no doubt provide some irresistible talking points for the chattering media.
Related: Poll shows opposition to Cordoba House crosses religious, ethnic and ideological lines [The Daily Caller]
Have a tip we should know? tips@mediaite.com