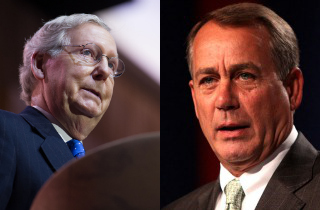 A poll conducted by CNN/ORC found that 53% of the American public would blame the Republican Party if the Department of Homeland Security shuts down when its funding expires at the end of the month. 30% would blame Obama, while 13% fell in the safe "pox on both their houses" category. 55% would see a DHS shutdown as a significant problem, including 46% of Republicans.
This is a replay of the Republicans' shutdown maneuvers from fall of 2013, when an effort to use government spending and the debt ceiling as vehicles to defund the Affordable Care Act backfired on the GOP.
The House of Representatives passed a spending bill with riders defunding a number of the Obama administrations orders on immigration; Senate Democrats have filibustered the bill, demanding a "clean" resolution. House Speaker John Boehner (R-OH) said Sunday that the House had "done its job" and that he was fully willing to let the DHS shut down, while Senate Majority Leader Mitch McConnell (R-KY) has told the House to pass a realistic bill that has a chance of making it through the Senate.
Further complicating matters, a federal judge in Texas just temporarily delayed the implementation of Obama's immigration order from last fall, rendering moot, for the time being, the principal issue of dispute. Boehner said Tuesday that this should clear the way for the DHS bill, though it includes riders affecting more immigration law than just the most recent executive order, while others speculate the GOP the judge's decision as cover to pass a clean bill through the House. (Washington Post's Greg Sargent has a good breakdown of the possible scenarios.)
There are eleven days left to figure it all out.
[h/t CNN]
[Image via Christopher Halloran / Shutterstock.com / Gage Skidmore]
——
>> Follow Evan McMurry (@evanmcmurry) on Twitter
Have a tip we should know? tips@mediaite.com