Poll: Self-Identifying Republicans Remain Mostly Unimpressed With 2012 Candidates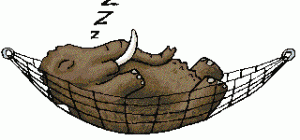 Last month, we told you about a CNN poll that revealed Rudy Giuliani – a man who hasn't officially thrown his hat in the race – currently leads among Republican and right-leaning Independent voters, with Mitt Romney (who seems to be losing traction with at least one faction of the Tea Party movement) and Sarah Palin (also still an unofficial and, depending on whom you ask, doubtful candidate) coming in at second and third, respectively.
Now, a poll from The Washington Post and the Pew Research Center indicates that "nearly four in ten" Republicans describe themselves as being "unimpressed" with the current 2012 GOP candidate field. And don't expect Democrats or Independents to be too keen on them either:
Asked to choose a single word to describe the Republican slate of candidates, fully 37 percent of self identified Republicans and Republican leaners chose a word with a negative connotation — with "not impressed/unimpressed" the most commonly mentioned phrase.

Among all respondents, 44 percent offered a negative one-word assessment of the Republican field including, not surprisingly, 52 percent of Democrats. More potentially problematic for Republicans hoping to unseat President Obama next November was the fact that 48 percent of Independents described the GOP candidates negatively while just 10 percent offered a positive one-word description.
With the field pretty much wide open and Romney's clout with the Tea Party movement being tested, it's still anyone's game – meaning that a few big names that have yet to make a formal decision about running (like Palin and New Jersey's Chis Christie) might be seriously contemplating joining in.
h/t Washington Post
Have a tip we should know? tips@mediaite.com