Poll Shows More Americans Would Have Dinner With Obama, Let Him 'Nurse Them Back To Health'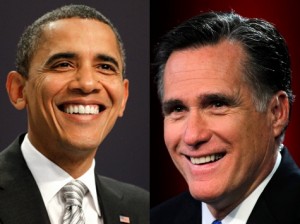 We're all familiar with voters being asked which candidate they'd most like to have a beer with — a question meant to reveal more about a politician's likability than the poll respondent's debilitating alcoholism and complete indifference to drinking buddies. Now, a new ABC News / Washington Post poll takes that type of questioning to a new level.
For example, which candidate — Romney or Obama — would you rather have nurse you back to health? If you're answer was "that's creepy" or "the answer is very obviously Harrison Ford playing a president," you're out of luck:
RELATED: O'Reilly And Romney Surrogate Try To Figure Out Why More Voters Personally Like Obama Over Romney
By a 13 point margin — 49-36 percent — registered voters polled by ABC News chose the president over Mitt Romney to nurse them back to health.

When asked who they thought "would make a more loyal friend," the results were about the same. By a 50-36 percent count, respondents said Obama was more likely to stick with them through trying times.

As for suppertime, still more ugly numbers for Romney. Fifty-two percent of registered voters polled by ABC News said they'd rather have Obama visit their homes for dinner. Just 33 percent said they'd prefer Romney at the table.

But it's not a total wipeout for the Republican. On what ABC News poll chief Gary Langer calls the most instructive question — which candidate they'd rather have "as the captain of a ship in a storm" — Romney loses to Obama, but by just three points, 46-43 percent.
Langer also points out that, when the two are placed up against each other, "empathy independently predicts vote preferences to a far greater degree than does likability." Which brings us to some other questions: Which candidate would you prefer to see smiling up at you from a bearskin rug? Which one makes the better mixed berry smoothie? Which candidate would you most like to have braid your hair on a hot summer evening? Think on it carefully, America.
h/t ABC News
Have a tip we should know? tips@mediaite.com