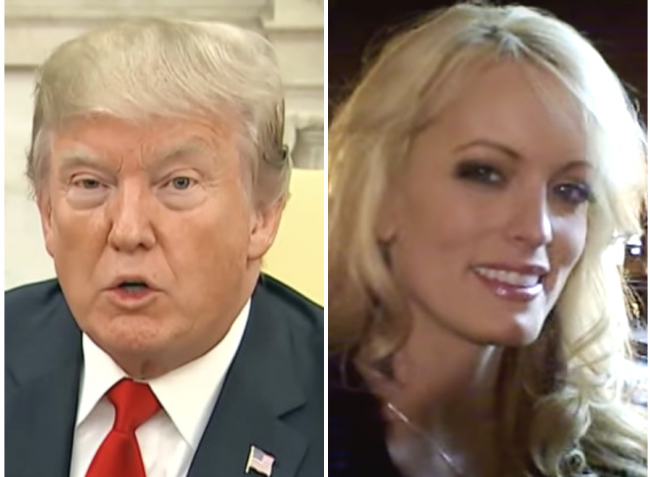 Earlier today, a report came out saying porn star Stormy Daniels was allegedly paid hush money prior to the 2016 election so she would stay silent about an affair with Donald Trump.
Trump lawyer Michael Cohen, reported to have made the payment, said in a statement, "These rumors have circulated time and again since 2011. President Trump once again vehemently denies any such occurrence as has Ms. Daniels."
But in a new report from The Daily Beast, porn star Alana Evans alleges that she was aware of Trump and Daniels:
"It was the second day of our trip, we were in a hotel with a tattoo parlor, and the hotel had huge windows so you could see people outside. When I saw Stormy, I was like WTF? I opened the door, called out to her, and she joined me while [my colleague] got a tattoo," recalls Evans. "Stormy said she met Donald Trump and then tells me about the golf tournament and how she's supposed to hang out with him later that night, and she invited me. Stormy said Donald knew exactly who she was and wanted to meet her."
Evans claims she got more calls from her hotel room later from Daniels inviting her, and at one point she started hearing Trump over the phone:
"Stormy calls me four or five times, by the last two phone calls she's with Donald [Trump] and I can hear him, and he's talking through the phone to me saying, 'Oh come on Alana, let's have some fun! Let's have some fun! Come to the party, we're waiting for you.' And I was like, 'OMG it's Donald Trump!' Men like him scare me because they have so much power and this was way before his presidential nomination. So I bailed on them and turned my phone off."

Evans said she talked to Daniels the next day, apologized for bailing, and asked her how the night went. "She tells me, 'All I'm going to say is: I ended up with Donald in his hotel room. Picture him chasing me around his hotel room in his tighty-whities.' I was like, 'Oh I really didn't need to hear that!' Then she said he offered her keys to his condos in Florida, and I was like, 'Wow guess you had a good night,' and that was the last we ever spoke of it."
The Daily Beast report also discloses that the news outlet was in talks with Daniels for an interview before the election, but she "ultimately backed out on Nov. 3, just five days before the 2016 election."
Their reporting cites a total of three sources confirming Trump and Daniels were in a relationship after he got married to Melania Trump.
[image via screengrab]
— —
Follow Josh Feldman on Twitter: @feldmaniac
Have a tip we should know? tips@mediaite.com
Josh Feldman - Senior Editor