Possible Hate Crime Charges for Ole Miss Frat Boys Who Put Noose on Civil Rights Statue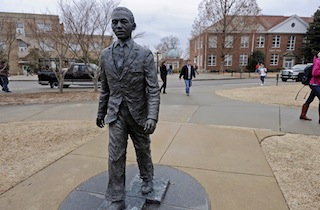 Three fraternity brothers have been expelled from their frat and face possible hate crime charges for putting a noose around a statue of James Meredith, the first African American student to attend Ole Miss.
The brothers were given up by their fraternity, Sigma Phi Epsilon, who expelled them and expressed shock and dismay at their actions.
"It is embarrassing that these men had previously identified with our Fraternity," SigEp CEO Brian C. Warren said Saturday. "For this to occur in 2014 is an insult to the legacy of James Meredith, The University of Mississippi community, and the SigEp alumni who fought for racial equality in the late 1950s."
The fraternity has been indefinitely suspended by the college.
The three former members already face vandalism charges, but the university has also turned over its evidence to state and federal authorities. If it is determined that the noose — which was accompanied by an old Georgia flag bearing the emblem of the confederacy — represented a threat to other students, they could face hate crime charges.
The man who found the vandalized statue last Sunday said that two men walking away from the scene were uttering racial epithets. "I came up on a couple younger-looking boys by the loading dock that were yelling 'white power' and 'f— n—–s' on my way back over towards the statue," he said. "When I rounded the corner of (the George Street House), I noticed the rope and the flag, and it definitely showed the Confederate flag."
[h/t Clarion Ledger]
[Image via Thomas Graning]
——
>> Follow Evan McMurry (@evanmcmurry) on Twitter
Have a tip we should know? tips@mediaite.com