Preacher Accuses Obama of Having Mother of His Illegitimate Daughter Killed in Capitol Shootout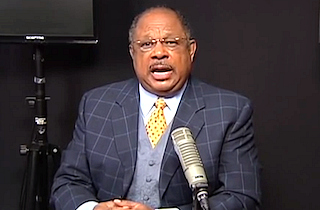 Reverend James David Manning of the Atlah World Missionary Church claimed this week that Miriam Carey, who was shot and killed by authorities after crashing her car into the U.S. Capitol building last month, had been assassinated by President Barack Obama because she had given birth to his illegitimate daughter.
On his radio show The Manning Report, Manning called for a paternity test of Carey's fifteen-month-old daughter, who was in the car with Carey when she led police on a chase that ended in gunfire on the Capitol steps.
The theory, which appears to have originated with a Russian website, alleges that before a May 2011 graduation address to the U.S. Coast Guard Academy, Obama stopped at the dentist office where Carey worked as an assistant, because a piece of pistachio shell had become lodged in his back moral.
While there, according to the theory, Obama struck up a friendship with Carey, who became pregnant shortly afterward. The website claimed that Carey refused Obama's request to have an abortion, at which point Obama "lured" her to Washington and had her killed. (Even more bizarrely, the site goes to claim that Obama was out trolling for extramarital action because Michelle Obama was actually born a man.)
Manning accused the "entire world media" of refusing to investigate the incident, and chastised Al Sharpton, Jesse Jackson, women's rights groups, academia, and the courts for "refusing to come to the aid of this slaughtered woman, which means that they are protecting something that they feel far more important, which is Barack Hussein Obama. Case closed."
Manning said Obama "crushed out [Carey's] life, and no one will come to her aid." He would have gotten away with it, too, had it not been for that pistachio nut.
Watch the segment below, via The Manning Report:
[h/t RS]
[Image via screengrab]
——
>> Follow Evan McMurry (@evanmcmurry) on Twitter
Have a tip we should know? tips@mediaite.com