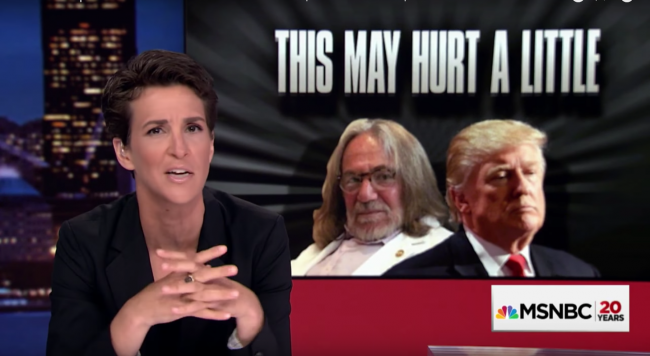 For a few months in 2016 and 2017, Tucker Carlson and Rachel Maddow battled for ratings dominance at 9:00 p.m. It was a fascinating contest to watch; Carlson was the undisputed king of the hour, but Maddow's momentum was undeniable.
That titanic struggle abruptly ended this week, however, with news that Carlson would move to 8:00 p.m, replacing the network's ratings king, Bill O'Reilly. The reshuffle comes with a lot of unknowns for both their careers, but at least in the short-term, the field is clear for Maddow — and MSNBC — to seize 9:00 p.m. from Fox entirely.
In many respects, we've been heading in this direction for several months. While first quarter ratings data for 2017 showed Carlson's show at number 2 — just behind O'Reilly — the real story may have been Maddow, who rode the wave of Donald Trump's tax returns to best Carlson for the month of March among the all-important 25-54 year-old demographic. With a March 15 interview with President Trump, Carlson should have owned the month. The cracks in Fox's 9:00 p.m facade become even starker when one looks at overall growth. In Q1, Fox's primetime audience grew 20% opposed to MSNBC's 61%.
All this means is that the trends were moving in Maddow's direction before Carlson's departure. With her formidable opponent gone, the question becomes whether Fox's replacement for the hour, The Five, will be adequate to reverse Maddow's gains. The evidence suggests it will not.
The most recent ratings data comparing The Five and Maddow are curious. Overall, The Five came in third, while Maddow came in at a distant seventh, but that's where the good news ends for Fox.
Among those coveted 25-54 year-olds, The Five fell to seventh in Q1, while Maddow bumps up to sixth. Yes, it's not an apples to apples comparison, but you don't need to be a rocket scientist to figure that it's not a renaissance of conservative millennials putting The Five on top overall, but rather, the loyalty of very, very old people. And one of the reasons they're not so coveted is because, well, they consistently tend to die — which is generally bad for ratings.
Now you might say the Fox audience is baked in and would happily watch a very smart koala willing to make fun of Berkeley college students. After all, where can those Fox viewers go anyway. CNN? MSNBC? … The Blaze? While this may be partly true, The Factor interregnum last week shows the limits of this assumption. While O'Reilly's ratings actually went up as his career spiraled to its ignominious end, Fox's cavalcade of potential replacements couldn't say the same. On April 11, during what became his last show ever, O'Reilly notched 3.6 million views. The very next day, guest host Dana Perino dropped to 2.8 million and Eric Bolling only managed to get 3.1 million the next night.
It's also worth noting that O'Reilly was critical to Fox as a "spillover" host, meaning that some percent of his gargantuan audience would stick around for Tucker. If Carlson can't match O'Reilly's firepower, that spillover is going to shrink too. After all, it may be hard for Carlson to be as phony or contrived as he thought Bill O'Reilly was in 2003.
The Five is actually an incredibly bold choice for primetime because it's a panel show. It's no coincidence that you probably can't name another panel show that's ever been a success in primetime. They've existed in some fashion, but all have basically failed. The prevailing wisdom is that people come to watch personalities they like. This belief in a single trusted voice amidst the squawking goes back decades when straight-laced evening hosts like Walter Cronkite and Tom Brokaw spoon-fed the news to us. Those kind of intimate audience connections are going to be harder to create when they're fragmented among warring panelists. Replacing Tucker Carlson with The Five is a major rejection of received primetime wisdom.
Also keep in mind that cable news craves conflict and now the balance of critical power shifts to the left. Over the past eight years, Fox News' right-of-center punditry greatly benefited from having Barack Obama in the White House. Now Maddow — and many of her fellow MSNBC hosts — can consistently take an opposing point of view from a Trump White House.
Finally, it would be remiss to attribute Maddow's success entirely to Fox's troubles. Let's give credit where it's due. Since she debuted in 2008, Maddow has built an incredibly impressive program that mixes current news with a level of fact finding depth that's hard to do in the circumscribed world of cable news. The Byzantine web of Donald Trump scandals plays perfectly to the show's strengths and will probably continue as long as he is President.
We here at Mediaite were also impressed at Maddow's decision to largely avoid the O'Reilly tribal grave dance and FoxNews-enfreude in favor of more serious subject matter.
If she continues as she has, the trends powering Rachel Maddow are not going to go away and the move at Fox from Carlson to The Five may only accelerate them.
This is an opinion piece. The views expressed in this article are those of just the author.