President-elect Trump Receives Honorary Water Salute as Plane Takes Victory Lap at Laguardia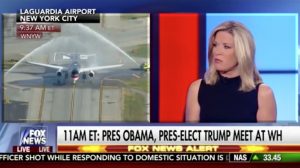 While the shock value is still fresh regarding the outcome of the presidential election, the real estate mogul turned GOP nominee turned President-elect is on his way this morning to Washington DC to meet with President Barack Obama.
The meeting comes at the invitation of the outgoing Commander in Chief, who stressed yesterday that the White House has a longstanding tradition of peacefully transitioning between administrations. The current and future First Ladies will also meet, while Vice President Joe Biden has extended an invitation to Vice President-elect Mike Pence as well.
And with the Fox News cameras rolling live via helicopter (something that the showman Trump himself undoubtedly knew full well was happening), the signature Trump plane took its time to taxi around Laguardia airport in New York City before takeoff. Laguardia employees at one point lined the runway, waving their support to the President-elect, and Trump himself was treated to an honorary water salute.
Water salutes are often used in aviation as a means to recognizing a highly distinguished individual, event, or aircraft. The event is marked by a pair of firetrucks that spout off water canons on either side of an aircraft; today's event at Laguardia was in honor of Trump's stunning and historic presidential upset.
Fox embed Dan Gallo identified that the water salute came from the Port Authority Police Department.
The Port Authority Police Department at LGA gave Trump's plane a "water salute" as PEOTUS makes 1st trip to DC as president-elect. pic.twitter.com/CsTtnh15Hb

— Dan Gallo (@dangallo) November 10, 2016
Watch above via Fox News.
—
[image via screengrab]
Have a tip we should know? [email protected]