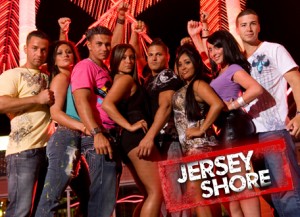 Parents, here's another reason to keep your kids away from the TV this summer. A recent article in USA Today would like to add temper tantrums and a fondness for TV melodrama to the list of what happens when we watch too much television. Specifically, the article argues that reality TV is making Americans more aggressive by presenting the extreme reactions and drama of reality TV as normal human emotional responses. Ultimately, we end up with a skewed conception of how we should react in stressful situations and demand that public figures, like say, President Obama, display the same lack of emotional control.
University of Texas-Austin communication studies professor Roderick Hart explains the unconscious effect of reality TV on how we perceive emotions:
Reality television has hyped all the emotions. You can't just be happy. You have to be ecstatic. You can't be upset. You have to be violently angry.
Even though we consciously understand that the patent unreality of reality television is designed purely for entertainment purposes, we're "becoming culturally conditioned to think 'It's OK to be more overreactive.'"
This unconscious change is leading some to question whether our expectations of political drama have been similarly affected. As USA Today notes, the ability to stay calm under pressure is traditionally considered a virtue, but Americans have been giving "No Drama Obama" no end of trouble for his apparent inability to throw an on-camera temper tantrum in response to the Gulf oil disaster. From the article:
Schieman notes that the president, a graduate of Columbia University and Harvard Law School, is "in a weird position."

"What's worse — being accused of not being angry enough or being accused of expressing anger that doesn't seem very authentic?" he says.
So not only is too much TV supposedly responsible for ruining your eyesight and giving you migraines, but if you find yourself sympathizing too much with your elected head of state,  just turn on some Jersey Shore.
On a side note, the USA Today articles also argues that reality TV is affecting our propensity to levy insults. So General McChrystal, you and your posse may be off the hook. But from now on you need to enjoy your protein shakes at the kitchen table, not in front of the TV, okay?
Have a tip we should know? tips@mediaite.com