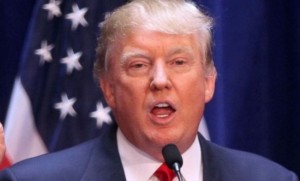 Since real estate mogul and JFK conspiracy theorist Donald Trump essentially sewed up the Republican presidential nomination this week, Americans have been faced with the terrifying prospect that Trump, regardless of whether he eventually wins the presidency, will be granted access to top secret intelligence briefings. At Thursday's White House daily briefing, ABC News correspondent Kenneth Moton asked a question no one ever wanted to hear asked: is the President hesitant to approve classified briefings for Donald Trump?
Earnest's response was characteristically anodyne, yet not very comforting:
The decisions about what and when and how to brief presidential nominees are decisions that will be made by our intelligence professionals. They are committed to fulfilling the spirit of this bipartisan or even non-partisan cooperation when it comes to sensitive national security issues. At the same time, they also will carry out those activities consistent with their understanding about treating this information sensitively. The President has full confidence in the ability of Director Clapper and the professionals in his office to carry out these responsibilities appropriately.
Earnest is referring to comments that CIA Director James Clapper made earlier this week regarding classified briefings for the nominees:
"We have already established a plan for briefing both candidates when they are named, and certainly after the November when the president-elect is known, and it gets more intensive," Director of National Intelligence James Clapper said in response to a question from The Daily Beast at a meeting with reporters in Washington last week.

Asked what precautions the intelligence community would take to ensure that any classified information the candidates received was not mishandled, Clapper said that the briefings, per custom, would be given in a secure facility wherever it was most convenient for the nominees, and according to their schedule. In 2008, Sen. Barack Obama was briefed by Director of National Intelligence Mike McConnell at an FBI building in Chicago, the city where he also had his campaign headquarters.

…Once a briefer is chosen to meet with the nominees, the intelligence director's office will "oversee [the process] to ensure that everybody gets the same information and that we do comply with the needs to protect sources and methods and comply with security rules."
At best, then, it seems Earnest is confident that Clapper and his team will use their judgment on what to brief Trump on, which will then limit the information given to Hillary Clinton, who gets the same briefing as Trump. How much top secret information is the right amount of top secret information to give to Donald Trump is anybody's guess.
Have a tip we should know? tips@mediaite.com