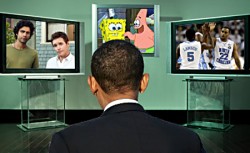 Chances are Katie Couric will never have the opportunity to floor President Obama with the question "what newspapers and magazines (and websites!) did you regularly read?" Answer is plenty. And Obama isn't afraid to name names! The Washington Post posed a version of the Couric question to Obama for a piece this weekend about what and who influences the President's decision-making, and the result is an interesting look into what informs the President. For Andrew Sullivan it may be a dream come true!
As for what Obama reads online, his advisers said he looks for offbeat blogs and news stories, tracking down firsthand reporting and seeking out writers with opinions about his policies. Obama was particularly interested in Atlantic Online's Andrew Sullivan's tweeting of the Iranian elections last year, said an aide, who requested anonymity to discuss what influences the president.
Hi President Obama! Also? The President likes his magazines (thank goodness someone does) and his really, really likes his sports.
"I don't think time permits him to be surfing all the time," Axelrod said, adding that the president reads "magazines like crazy," including the New Yorker, the Economist, Sports Illustrated and Rolling Stone. "There are some commentators whose views he's interested in, and he'll read blog items."…Obama watches plenty of television, too. He flips through cable channels, sometimes lingering on the "cable chatter" he has disdained in public, aides said. And he keeps an eye on his staff, including press secretary Robert Gibbs, whose daily briefings are broadcast live on C-Span. "Certainly he will catch Robert's briefings," former communications director Anita Dunn said. "He'll say, 'Robert, I just saw you getting asked X.' "

But Valerie Jarrett, the adviser who is personally closest with Obama, cautioned against over-interpreting his channel surfing. "Most of his television revolves around [ESPN's] 'SportsCenter.' I don't think there are a lot of television shows he gets inspiration from other than sports," she said, laughing.
So all in all, sounds like the President pretty much "consumes" like most of America. Wonder if while lingering on the "cable chatter" one day Obama will pick up the phone and call the Glenn Beck hotline?
Have a tip we should know? tips@mediaite.com