President Obama Golfs With Pal Recently Busted For Soliciting Prostitute; Media Shrugs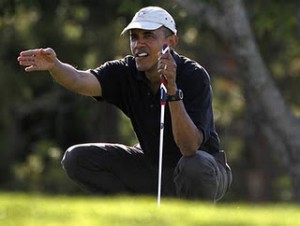 Say what you will about his politics, but it seems President Obama is a very loyal friend. Earlier this year, his high school buddy, Robert "Bobby" Titcomb, was arrested as part of a prostitution sting, after he allegedly approached an undercover police officer for sex in downtown Hawaii (a judge fined him $500 and, if he stays out of trouble for six months, it's off his record).
A friend's legal troubles might lead some high profile politicians — especially a President in the midst of a fierce partisan political war — to shy away from appearing publicly with them. But not President Obama. On vacation in the Aloha State with his family, the President has taken in big meals, released turtles into the wild, and has played several rounds of golf. At least two of those rounds have been with Titcomb.
What seems particularly interesting ("refreshing"?) here isn't that President Obama would still hang out with a friend who had been arrested; it's how many media outlets have either made no reference to Titcomb's arrest, or simply stated it in passing. Both The New York Times and The Washington Post briefly made a note of Titcomb's past in reporting the vacation stories. In this day and age of "gotcha!" controversy-driven political coverage, is it surprising not to see more of a big deal being made? And maybe even more surprising, there doesn't seem to be a purely political divide within the media. FoxNews.com, for example, in a story about Obama's golfing on Christmas Eve, didn't even mention Titcomb's arrest when reporting on his participation.
In fact, it seems it was a British paper, The Daily Mail, that made the biggest deal out of Titcomb's inclusion, blasting it across its headline:
A five-course meal at Honolulu's priciest restaurant after golf with his hooker-loving buddy… Obama faces another tough day in Hawaii
Is this a random free pass President Obama is getting with the Titcomb association? Or is it a refreshing departure from sensational journalism that would unnecessarily muddy a nice piece about the President on vacation? Vote in the poll, and let your voice be heard below. Because we're genuinely curious on this one:
Have a tip we should know? tips@mediaite.com