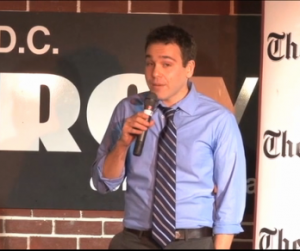 Jon Lovett, award winning comedian and Obama speech writer ("I don't know if I am a major speech writer for the president," he jokes in said award winning routine), is escaping the White House for the glitz and glam of the Inland Empire, where he hopes to make a name for himself as a Hollywood screenwriter. "It's always been a dream of mine to write comedy and be creative," said the 29-year-old, who is set to move west in mid-September. According to the Washington Post, Lovett has already fielded "interest from studios in a Washington-based political comedy and an updated version of "M.A.S.H." Did Hollywood just get a little smarter? Or Washington a little less funny?
Lovett has warmed his comedy chops in DC, writing roasts for Hillary Clinton early in his career, and going into something his former boss David Axelrod called "comedy overdrive" for Obama's White House Correspondents dinner. Washington and Hollywood are "are not really similar," though, warns Eli Attie, a former White House and Al Gore speech writer who has since found success as a writer for the medical drama House, in the Post. In Hollywood, Lovett will be required to think in "three dimensions," and also to write under their own name, whereas speech writers remain strictly behind the scenes. Lovett sounds ready, and says, "I would like to be able to write in my own voice."
Guess he just fancies himself a tad little more Jon Favreau than Jon Favreau.
Have a tip we should know? tips@mediaite.com