President Trump Proposes 'Contest' to Determine Which Network is 'Most Dishonest': 'FAKE NEWS TROPHY!'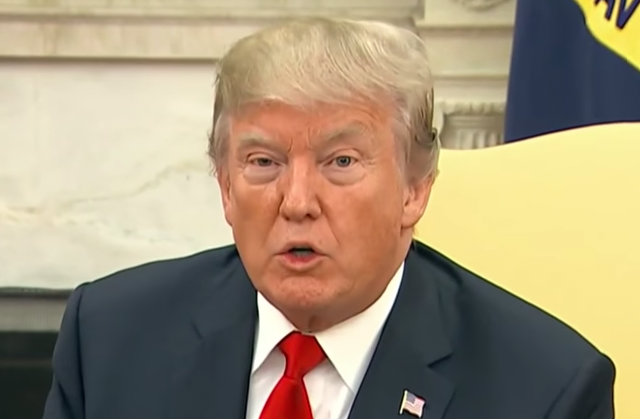 President Donald Trump blasted out a tweet Monday morning calling for a contest amongst cable news networks — that apparently would exclude Fox News — to determine which is "the most dishonest, corrupt and/or distorted in its political coverage" of "your favorite President (me)."
The winner of the proposed contest would have the honor of receiving a "FAKE NEWS TROPHY!"
"They are all bad," Trump also wrote of the networks (again, presumably excluding Fox News.)
We should have a contest as to which of the Networks, plus CNN and not including Fox, is the most dishonest, corrupt and/or distorted in its political coverage of your favorite President (me). They are all bad. Winner to receive the FAKE NEWS TROPHY!

— Donald J. Trump (@realDonaldTrump) November 27, 2017
The tweet is fairly baffling, even for Trump standards (we're dealing with a low bar here folks), and a further missive in his recently amped-up war on CNN.
Over the weekend, Trump called CNN "fake news," and compared the network to his preferred network Fox. He inexplicably bashed the international arm of CNN as "a major source of (Fake) news," adding "they represent our Nation to the WORLD very poorly."
CNN responded to Trump's attack in a viral tweet reminding the president that it is not their job to represent the United States abroad:
It's not CNN's job to represent the U.S to the world. That's yours. Our job is to report the news. #FactsFirst ?

— CNN Communications (@CNNPR) November 25, 2017
Trump's tweet came a week after he returned from his 10-day odyssey to Asia, a trip during which he complained about being subjected to CNN International.
[image via screengrab]
—
Follow Aidan McLaughlin (@aidnmclaughlin) on Twitter
Have a tip we should know? tips@mediaite.com
Aidan McLaughlin - Editor in Chief