President Trump Retweets Series of Graphic Anti-Islam Videos From British Far-Right Extremist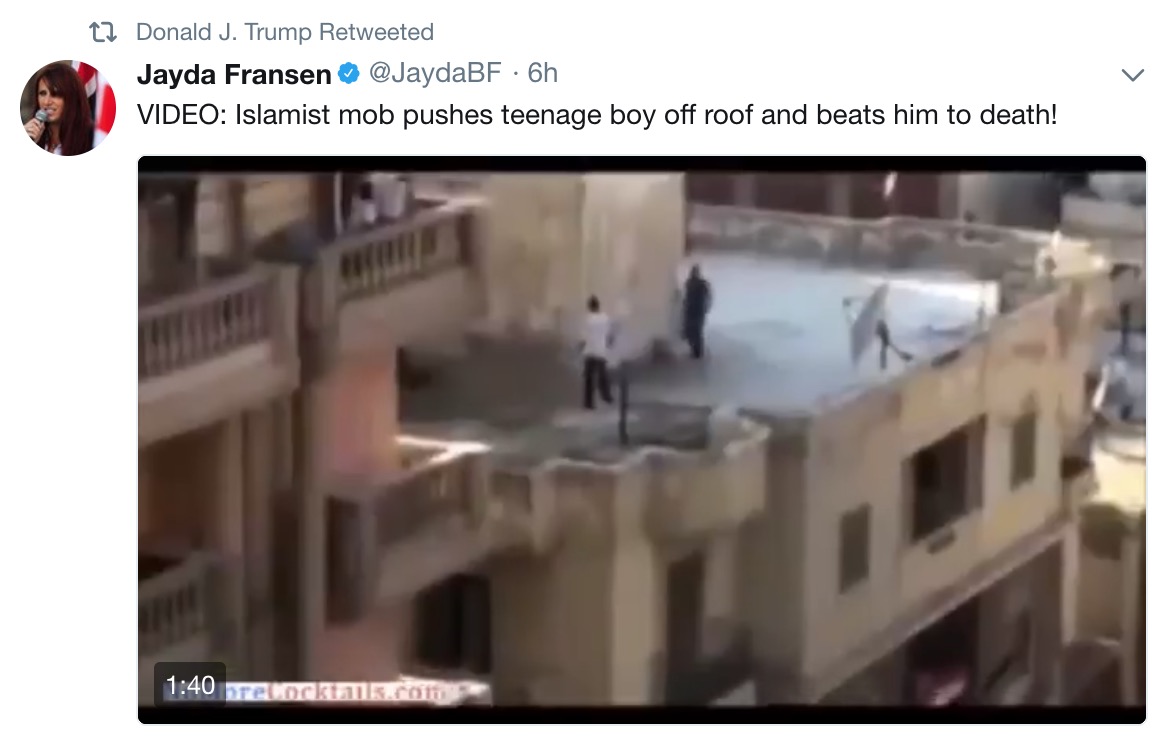 President Donald Trump early Wednesday morning retweeted three graphic anti-Islam videos from Jayda Fransen, a militant nutcase and deputy leader of the extreme rightwing U.K. party Britain First.
The three videos included "Muslim migrant beats up Dutch boy on crutches!", "VIDEO: Muslim Destroys a Statue of Virgin Mary!", and "VIDEO: Islamist mob pushes teenage boy off roof and beats him to death!"
The videos are incredibly graphic and completely unverified. They're familiar to anyone who spends time on white nationalist, anti-Islam message boards — but it's still fairly jarring to see them posted on the President's official twitter feed.
Britain First is an anti-Islam, anti-immigration and nationalist political party. It gained national attention after a man shouted "Britain First" before fatally shooting British MP Jo Cox in a politically motivated attack in 2016.
Cox's husband responded to Trump's retweets Wednesday:
Trump has legitimised the far right in his own country, now he's trying to do it in ours. Spreading hatred has consequences & the President should be ashamed of himself.

— Brendan Cox (@MrBrendanCox) November 29, 2017
Fransen, the Britain First's deputy leader, is on currently on bail after being charged with religiously aggravated harassment in September, according to Sky News.
Trump retweeting the posts from the Britain First leader was even a step too far for Paul Joseph Watson, the British editor-at-large for right-wing conspira-blog Infowars:
Yeah, someone might want to tell whoever is running Trump's Twitter account this morning that retweeting Britain First is not great optics. ?

— Paul Joseph Watson (@PrisonPlanet) November 29, 2017
Fransen proudly celebrated Trump's sharing of her "hate messages" in a flurry of subsequent posts on Twitter:
Donald Trump retweets hate messages from Britain First deputy leaderhttps://t.co/M74i62Sugk

— Jayda Fransen (@JaydaBF) November 29, 2017
THE PRESIDENT OF THE UNITED STATES, DONALD TRUMP, HAS RETWEETED THREE OF DEPUTY LEADER JAYDA FRANSEN'S TWITTER VIDEOS! DONALD TRUMP HIMSELF HAS RETWEETED THESE VIDEOS AND HAS AROUND 44 MILLION FOLLOWERS! GOD BLESS YOU TRUMP! GOD BLESS AMERICA! OCS @JaydaBF @realDonaldTrump pic.twitter.com/BiQfQkTra9

— Jayda Fransen (@JaydaBF) November 29, 2017
UPDATE 8:45 a.m.: Jim Waterson at Buzzfeed did some digging into the origins of the videos. The one of a "migrant" beating up a boy on crutches was apparently debunked:
The videos retweeted by Trump come from various sources. The clip of a man being pushed off a rooftop was filmed in Egypt during the 2013 overthrow of president Mohamed Morsi. One man was hanged after being found guilty of the crime.

In May, Dutch police intervened after a clip of two teenagers fighting had gone viral after being posted to video sharing website Dumpert.nl. The video led to an arrest of a 16 year old boy in Monnickendam and the video was removed from Dumpert at the request of the police.

Dumpert's sister website Geenstijl has since posted a debunk of the video claiming that no migrants were involved in the video and calling Trump's retweet "fake news".

The source of the video showing a Virgin Mary statue being destroyed is unclear.
[image via screengrab]
—
Follow Aidan McLaughlin (@aidnmclaughlin) on Twitter
Have a tip we should know? tips@mediaite.com
Aidan McLaughlin - Editor in Chief