Producer Of O'Reilly Book Adaptation: Lincoln Assassin Could Be 'Poster Child For The Tea Party'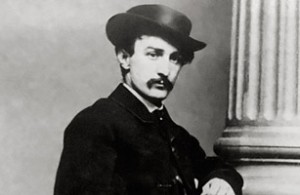 If you've tuned in to Bill O'Reilly's show in the past year or so, you may be aware he has a book out called Killing Lincoln. Almost a full year ago, National Geographic announced it was adapting O'Reilly's book for a television special. The interesting collaboration between the Fox News host and liberal Hollywood (the special is narrated by Tom Hanks) came to a head early Friday when the executive producer said at the Winter TV Press Tour that Lincoln assassin John Wilkes Booth "could be the poster child for the Tea Party."
According to The Washington Post, Erik Jendresen, the executive producer of Killing Lincoln, made his comments during the press event to promote the upcoming special, likening the beliefs of Booth to modern-day Tea Partiers.
Booth was not mad and his views were, in fact, pretty common when he assassinated Lincoln, Jendresen said Friday.

"This is not the act of somebody who can easily be dismissed as a psychopath, so that it's easy to understand — 'Oh well, he was crazy.' This is a man who believed what still probably 20 percent of this country still believes."
It's relatively safe to assume O'Reilly has a different opinion on the matter, but as he was not at the event, critics in attendance asked Jendresen how O'Reilly might feel about those comments, considering his name is so closely attached to the project. Jendresen admitted that he "can't speak" for O'Reilly, but continued to draw parallels between the attitudes of the 1860s and conservative attitudes of today.
He said that people hurled epithets at President Lincoln much in the same way people today speak of President Obama. In both cases, Jendresen said, people are convinced that the elected president of the United States is so power-hungry he might "declare himself king and take over."
O'Reilly has previously come down hard on rhetoric bashing the Tea Party. As of this posting, O'Reilly has not addressed the remarks on his program, but we will update accordingly if he does.
—–
Follow Josh Feldman on Twitter: @feldmaniac
Have a tip we should know? tips@mediaite.com
Josh Feldman - Senior Editor