Professor Questions Credibility Of New Yorker Piece On Bin Laden Capture: Writer Made 'Egregious Oversight'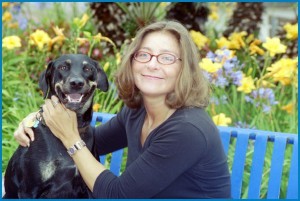 You might remember Monday's post drawing attention to a fascinating New Yorker piece about the capture of Osama Bin Laden. The article offered many details about the meticulous planning leading up to the raid on Bin Laden's compound in suburban Pakistan, including the fact that the ultimate goal of the mission had always been to kill the terrorist leader.
Now, however, one woman is casting doubt on the article's author, Nicholas Schmidle. In a guest post for Registan.net, Georgetown University assistant professor C. Christine Fair (shown here with quite a cute doggy) recounts how she first met Schmidle five years ago, when the writer visited Foust's office at the United States Institute of Peace to ask for help in getting to Pakistan in order to live in and write about the country for two years. She subsequently kept an eye on his writing career, including his recent New Yorker piece.
Fair raises an eyebrow over just how detailed Schmidle's account of the night Bin Laden was killed happens to be, with the writer even going so far as to chronicle the contests of a Navy SEAL Team Six member's pockets. This is information that could very well be gleaned from interviewing the individuals who were there that historic night, but, as a correction issued by NPR shows, that's not what happened:
We incorrectly said that reporter Nicholas Schmidle had spoken with the Navy SEALs who participated in the raid that killed Osama bin Laden. Schmidle used information from others who had debriefed the SEALs; he did not speak with them himself.
Fair emailed Schmidle to express her "dismay at his reportage," and attempted to take advantage of a livechat with Schmidle to ask why neither the author nor his editors at the New Yorker saw it fit to note that, contrary to what the article strongly implies, he had not, as the article strongly implies, he had not spoken directly with the individuals who were in that helicopter over Abbottabad on the night of May 1st:
During a "live chat" with Mr. Schmidle on the New Yorker's website yesterday, several persons including myself tried to ask Mr. Schmidle to explain this egregious oversight. (I posed the question four times throughout the course of the "live chat." The moderator did not post a single one. (Earlier in the day, Schmidle and I exchanged emails wherein I expressed my dismay at his reportage.)

Many of us were following this in real time via twitter. I was not alone: others—including other journalists—tried to ask other tough questions but the moderator did not post them either. I also tried to post a comment to this effect along with other readers' comments. That comment has not yet been posted.
Eventually, the chat's moderators did allow one person to ask Schmidle that very question — which would have been a step towards transparency were it not posed by a close friend of Schmidle's and received what was essentially a "non-answer."
Why be upset over it? According to Fair, the reason is at least twofold:
First, many Muslims across the world fundamentally doubt the events of the Bin Laden raid. Some believe Bin Laden is still alive. Others believe he died long ago. Others believe that the events of May 2 were staged to allow the Obama administration to make an exit from Afghanistan. As Mr. Schmidle's is the first (and so far only) account of the drama, these problems cast a pale of doubt upon the events that transpired that evening.

Second is the simple fact of Mr. Schmidle parentage. His father, as noted above, is the deputy commander of the U.S. Cyber Command. Given the conspiratorial propensities of many within and beyond the Muslim world, Schmidle's ties to this organization by virtue of his father would recast any serious inaccuracy in his report as a U.S. military psychological operation to deliberately misinform the world about the operation.
Have a look at her full post (as well as commenters' reactions) and let us know what you think. Is she right to ask for disclosure? And what do you make of her emphasis on the so-called "Muslim world's" possible reaction to Schmidle's piece?
h/t Registan.net
Have a tip we should know? tips@mediaite.com