Wisconsin Progressive Group Alleges Joint GOP And Tea Party Voter Suppression Conspiracy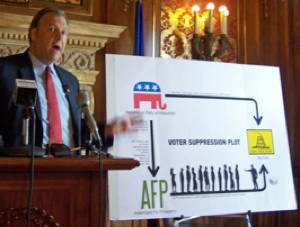 Expect to hear a lot about "voter caging" in the coming days. What is it? Its a method of voter suppression in which an election official challenges the registration status of voters ostensibly to prevent them from casting a ballot. Why should you expect to hear about it? Because a group called One Wisconsin Now is claiming to have uncover a "massive scheme to disenfranchise voters in Wisconsin this November." Further, they are alleging that participants in the conspiracy include the Wisconsin GOP and local Tea Party organizations.
The One Wisconsin Now press release claims:
A coordinated plot by the Republican Party of Wisconsin, Americans for Prosperity-Wisconsin and organizations in the so-called Tea Party movement targeting minority voters and college students in a possibly illegal "voter caging" effort for voter suppression has been uncovered in evidence obtained by One Wisconsin Now, a statewide advocacy organization in Madison, Wisconsin.

"Based on what we have heard, the Republican Party of Wisconsin, the Americans for Prosperity-Wisconsin and leading Tea Party organizations are in collusion in an effort to suppress the ability of minorities and university students in Wisconsin to exercise their right to vote this November," said Scot Ross, One Wisconsin Now Executive Director. "We will be providing all of the evidence we have received on this wrongdoing to federal and state authorities so that they can investigate to ensure justice and democracy prevail."

Ross said One Wisconsin Now will today be filing formal requests for investigation with the U.S. Attorney's Office, as well as the Wisconsin Attorney General's Election Integrity Task Force and the Government Accountability Board demanding a full investigation to ensure the right to vote is not stolen by these plans.
Given that many left-of-center media outlets seem eager to use an absurdly broad brush to paint the Tea Party and the GOP to be in corrupt cahoots with one another, its safe to say that we can expect to hear more about this story in the coming days and weeks.
GOP officials in Wisconsin have dismissed the allegations. Wisconsin Radio Network reports:
Mark Jefferson with the Republican Party of Wisconsin likewise said there's nothing to the allegations, although RPW is willing to work with any group to prevent voter fraud. "That includes groups like Scotty Ross' One Wisconsin Now," said Jefferson. "There have never been any discussions on any type of coordination," said Mark Block with Americans for Prosperity, adding that OWN's allegations are based on "non-factual information."
One Wisconsin Now has audio tapes and transcripts that appear to back up their allegations. You can view them by downloading them at their website, or choose to watch video of their press conference below.
Voter Caging Scheme Exposed in Wisconsin from onewisconsinnow on Vimeo.
Have a tip we should know? tips@mediaite.com