Project Aims to​ Rate Media Outlets' Credibility Based on How They Report Climate Science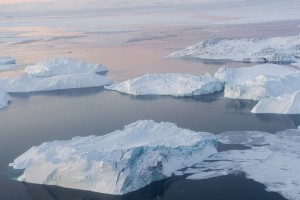 An initiative called Climate Feedback has unveiled what it calls the Scientific Trust Tracker, which assigns media outlets a rating based on an assessment by scientists of how accurately they report on climate change.
According to their website, Climate Feedback "produces analyses and evaluations – we call them 'feedbacks' – of influential reporting on climate change. Our feedbacks are already helping readers around the world distinguish between news stories based on science and those that only claim to be."
In a mockup of the Scientific Trust Tracker (viewable here), visitors can see how 20 articles from six different outlets are considered, and how the Tracker assigns each newspaper or website a rating of scientific credibility from very high (+2) to very low (-2). The rating is determined by the number of "sound articles" and "flawed articles."
In one example of an analysis of an article (from the Telegraph), visitors can read feedback from 14 scientists responding to and analyzing specific claims in the article. In aggregate, they assign the article a rating of -1.5 (on a scale between -2 and +2) for scientific accuracy.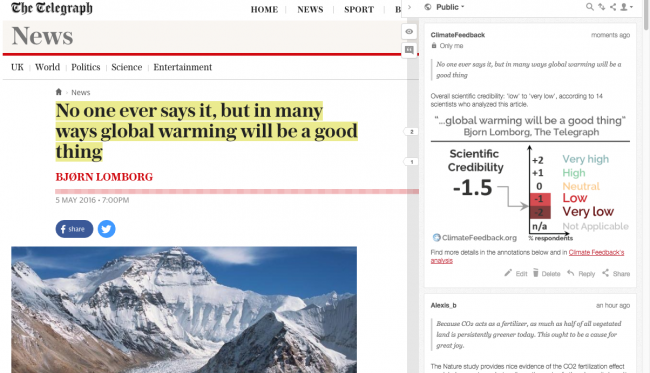 A complete list of the over 100 reviewers and organizers for the project, almost entirely professors and researchers, is viewable here. In some cases, a journalist's article on a scientific study is reviewed and criticized by the very authors of those studies.
According to the early findings of the project, the group's scientists "found that two of the most popular articles on climate change published by Forbes in 2015, one of which has been read by almost one million people, were deeply inaccurate and misleading. Similarly, op-eds on climate in The Wall Street Journal were consistently found to be at odds with current scientific knowledge." Meanwhile, "Mashable, The New York Times and The Washington Post have so far communicated climate science accurately and insightfully."
The project's organizers are currently crowdfunding in order to review more articles from a wider swath of news outlets. Feedbacks on articles already reviewed can be viewed here.
[image: UN photo via Flickr]
Have a tip we should know? tips@mediaite.com