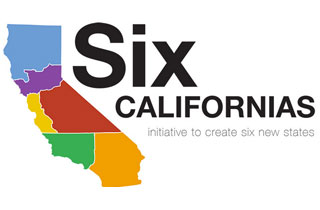 How do you fix California, which is so broken and so very drought-ridden? According to a proposed ballot measure from Silicon Valley venture capitalist Tim Draper, you should break it. Literally, you should amend California's constitution to break the state into six smaller states. And the idea is apparently popular enough that he's gathered enough signatures to put it to a vote in 2016.
Draper and his colleagues believe that they've gathered more than the 807,615 signatures necessary to get the proposal on the ballot, with "plenty to spare," according to the San Francisco Chronicle. And how do you get that many signatures? The group, which Draper poured $1.3 million into, enlisted the services of a signature-gathering company that paid $3 per signature. (Funny thing about California, you can place any initiative you please on the ballot as long as you get enough signatures. This has led to the current direct democracy crisis, which, to sum it up briefly, makes California suck real bad.)
59% of Californians are opposed to the idea, but the Republican residents of the Central Valley (a.k.a. that giant red chunk) are in favor of the proposal. This is enough to have Democrats worried over a potential "outpouring of conservative support" for the initiative, seeing it as a potential distraction for the party in 2016.
But even if the measure passed, there's also another big, constitutional problem:
Under Draper's plan, each of the six states would have its own government and own collection of elected officials, including congressional representatives.

A Field Poll in February showed 59 percent of Californians surveyed opposed the idea. Even if Draper can turn that around, there would be another major hurdle: The U.S. Constitution requires the approval of both Congress and the state Legislature, which is now firmly controlled by Democrats.
So whether this is a stunt or an actual attempt to reform California's policies remains to be seen. In the meantime, California has no water.
[h/t Valleywag]
[Image via Six Californias]
— —
>> Follow Tina Nguyen (@Tina_Nguyen) on Twitter
Have a tip we should know? [email protected]