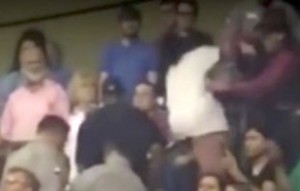 At a Trump rally Wednesday in Fayetteville, N.C. a protester was sucker punched as he was being led out of the stadium and immediately taken to the ground by law enforcement officials. The moment was captured on multiple videos, which appeared online Thursday morning.
The protester, Rakeem Jones, describing the moment a man in a cowboy hat socked him unprovoked, told the Washington Post: "Boom, he caught me. After I get it, before I could even gain my thoughts, I'm on the ground getting escorted out. Now I'm waking up this morning looking at the news and seeing me getting hit again."
Jones, the man in the white shirt, can be seen in the following video getting punched while he and others in his party were being escorted out of the rally.
The Post reported:
Ronnie C. Rouse, a man who shot one of the videos, was with Jones at the rally.

"We're definitely anti-Trump," Rouse told The Post.

Rouse said as soon as Trump's speech began, someone in the crowd singled out him and his friends, screaming, "You need to get the f— out of there!" Rouse said that his group had not said anything and that the comment was unprovoked. But he said they were almost immediately surrounded by eight Cumberland County sheriff officers, who escorted them out. On the way up the stairs, the attack came.

Rouse, a 32-year-old musician, said he didn't see the punch but saw the aftermath — his friend "slammed" by officers to the ground and handcuffed. Noting that someone in the crowd shouted, "Go home n—–s," he said he was taken aback.
The Post has multiple videos of Jones being punched and detained, as well as footage of other confrontations with demonstrators at the rally (below). In one angle, the punch happens in plain view of an officer, although there was no apparent attempts made to remove or detain the person who socked Jones.
Jones said the officers who detained and led him out were from the Cumberland County Sheriff's Office, although the office disputes that. Jones and his friends were detained, but not arrested.
ABC News reported that this was just one of 17 interruptions at the rally.
A recent poll shows Trump leading the polls in North Carolina with 41 percent support. North Carolina's GOP primary will take place next Tuesday.
——
UPDATE — 1:40 p.m. ET: The man who allegedly assaulted Jones has been identified as 78-year-old John McGraw, and has been charged with assault and battery and disorderly conduct, according to local reports.
UPDATE — 2:30 p.m. ET: The YouTube account hosting the original video of Jones has been terminated. It has been replaced with a copy of the same video.
Have a tip we should know? tips@mediaite.com