Puerto Rican Senator Roberto Arango Explains Why There Are Naked Pictures Of Him On A Gay Hook Up Site (UPDATE)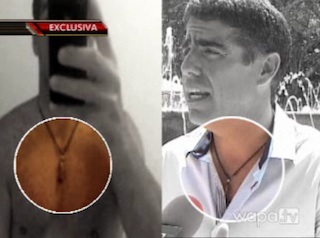 Well, it looks like we have a new Anthony Weiner in town. A Puerto Rican TV show called Dando Candela presented Republican Senator Roberto Arango with naked pictures found on the Internet that they claimed were of him. He wouldn't deny the allegations, saying he had taken photos like that but only to document his weight loss. Of course, that doesn't explain the fact that the pictures were found on Grindr, a hook up site for gay and bisexual men.
Yes, even though the name "Arango" isn't a euphemism for a male organ (I mean, it could be. My Spanish is rusty), it looks like this story might end up being just as interesting as Weiner's.
Here's Arango's explanation for why he can't deny the pictures are of him (translation from Guanabee.com):
"You know I've been losing weight. As I shed that weight, I've been taking pictures. I don't remember taking this particular picture but I'm not gonna say I didn't take it. I'd tell you if I remembered taking the picture but I don't."
Unfortunately, Arango is married. Doubly unfortunately, the media has found video of him wearing a very similar necklace to the one in the picture. Triply unfortunately, the account that the first picture was on also had another one that is slightly more graphic.
UPDATE 8/29: Naked hook up pictures have claimed another congressional victim. Arango has resigned from office.
Here's a video report from WAPA. It's in Spanish but, fortunately, naked Congressmen are a universal language.
Have a tip we should know? tips@mediaite.com