Push to Stop Brock Turner Launching Speaking Tour on 'Drinking and Promiscuity' Gains Traction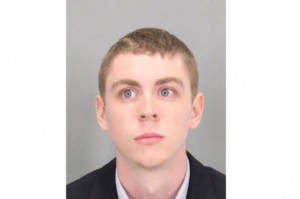 Maybe you've heard of Brock Turner. He is the felon convicted of sexual assault who recently got sprung from his already-lenient prison sentence after serving only three months of it. Pretty much everyone is outraged by this except for his parents. His mom acted as a human shield when the press tried to take his photo the other day and his father penned a letter to the judge in his case that whined about how sad it was that his beloved child couldn't enjoy a steak dinner since being tried for sexual assault after being found on top of an unconscious woman behind a dumpster. His father called that "20 minutes of action" and agrees with his son that alcohol was to blame for his actions.
Note that millions of people are capable of drinking alcohol without raping or sexually assaulting someone.
Still, it looks like Turner's belief that his and his victim's consumption of alcohol is to blame for his behavior is something he may be looking to monetize. There was talk during the trial of him launching a speaking tour during which he would visit high schools and give lectures on "drinking and promiscuity," and now that idea is back in the spotlight.
Today, an open letter went up on Huffington Post that demands an apology from the felon. Ruth Starkman — who teaches at the university where the assault took place, Stanford — penned the piece, "Until Brock Turner Apologizes, He Should Not Be Allowed To Speak On Campuses." In it, she passionately argued against his defense of "himself by faulting others and using alcohol as an excuse for his actions."
"Any campus appearance must be conditioned on his taking full responsibility for his actions, apologizing to the victim, and condemning sexual assault," she asserted.
She's not alone in believing that he has placed the blame everywhere but where it belongs.
Brock Turner lecturing students about promiscuity is like a rapist lecturing students about promiscuity OH WAIT https://t.co/71BlJzY6Eq

— Lauren Rankin (@laurenarankin) September 8, 2016
Dear every college ever, please don't pay Brock Turner to lecture your students about "party culture" https://t.co/k3uQs6bb64

— Elizabeth Plank (@feministabulous) September 8, 2016
HI I'M CONVICTED RAPIST BROCK TURNER & I'M HERE TO TELL THE GIRLS NEVER TO DRINK BECAUSE IF SOMEONE LIKE ME RAPES YOU IT'S REALLY YOUR FAULT

— Sabine (@ThatSabineGirl) September 8, 2016
Hello Universities: do not invite #BrockTurner to speak at your school, esp in lieu of someone who has been raped. https://t.co/jYF3sPCrrq

— Rachel Vorona Cote (@RVoronaCote) September 8, 2016
Rachel Vorona Cote, in particular, encouraged any schools that might consider allowing Turner to address their student body to instead consider inviting an actual survivor of sexual assault.
[image via screengrab]
Have a tip we should know? tips@mediaite.com