Putin Dismisses Talk That Russia Is Behind Trump as 'Attempt to Manipulate Public Opinion'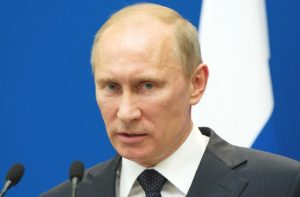 If the 2016 election was a work of fiction (it still could be, the jury's not in yet), then Vladimir Putin would be its shadowy supervillain. And now Putin is weighing in on some of the rhetoric being used about him and Russia on the U.S. campaign trail.
Putin has only offered brief comment on the race thus far, including a denial of Russian involvement in the DNC email hacking, but according to The Wall Street Journal, Putin opened up quite a bit more at a conference in Sochi earlier today.
Regarding Trump himself, who Putin once called "colorful," the Russian leader now says he's "extravagant" and "he simply represents the interests of simple people who criticize those who have been in power for decades."
But despite that, not to mention how Russian state media has covered this race, Putin denies that Russia is behind Trump in any sense:
Mr. Putin said that Russia's support for Mr. Trump had been invented by Western media, and that it was part of a "political battle, an attempt to manipulate public opinion on the eve of elections." He said the Kremlin would welcome any candidate who expressed a desire for improved relations with Moscow.
"Does anybody seriously think," Putin asked, "that Russia could somehow influence the choice of the American people? Is it a banana republic or something? America is a great power."
Though Putin additionally did echo what pretty much every single American thinks about this election:
"Elections have stopped being an instrument of change, and have been reduced to scandals, to mudslinging, to questions of who pinched whom and who is sleeping with whom."
[image via Frederic Legrand – COMEO/Shutterstock]
— —
Follow Josh Feldman on Twitter: @feldmaniac
Have a tip we should know? tips@mediaite.com
Josh Feldman - Senior Editor